IAFC: Mobile technology can increase sudden cardiac arrest survival rates
The International Association of Fire Chiefs cited the PulsePoint app as a way to utilize responders and bystanders to increase sudden cardiac arrest survival
---
By EMS1 Staff
CHANTILLY, Va. — The International Association of Fire Chiefs recommended that mobile technology should be used to increase survival rates among those who suffer sudden cardiac arrest.
In a position statement, the organization endorsed the use of apps such as PulsePoint as a way to not only alert civilians when someone nearby needs help, but to also give them an avenue to render aid.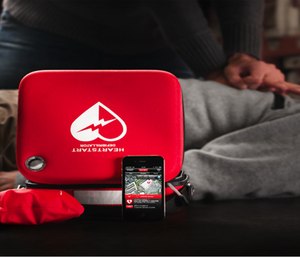 "The IAFC recognizes that implementing and sustaining PulsePoint cannot be reliant on political or philanthropic support alone; it needs a cultural change," the statement read. "The fire department must convince the community that sudden cardiac arrest is not just a job for emergency responders but rather a community-based issue that requires a community-based response." 
IAFC president Fire Chief Thomas Jenkins said sudden cardiac arrest is a "community-wide challenge."
"As I've experienced in my own city, PulsePoint not only involves our residents in critical time-sensitive medical emergencies, but also strengthens bonds in our community and creates opportunity for positive interaction with our emergency responders," he said.
The IAFC recommended fire departments consider the following issues:
Activating civilians with PulsePoint
Adopting Verified Responder, a professional version of the app
Building an AED registry with PulsePoint AED
Increasing civilian familiarity with PulsePoint to provide transparent communication
"With more than 3,000 cities now connected to PulsePoint and with well over one million app users, support and guidance from the IAFC is truly valued by our organization," PulsePoint Foundation president Richard Price said.