PRESS RELEASE
ZuumCraft unveils the Interceptor EMS model at the FireHouseWorld Expo in San Diego
---
San Diego, CA -  Zuumcraft, Inc., introduces the Interceptor EMS model at http://firehouseworld.com/ at the San Diego Convention Center on February 19, 20 and 21, 2013.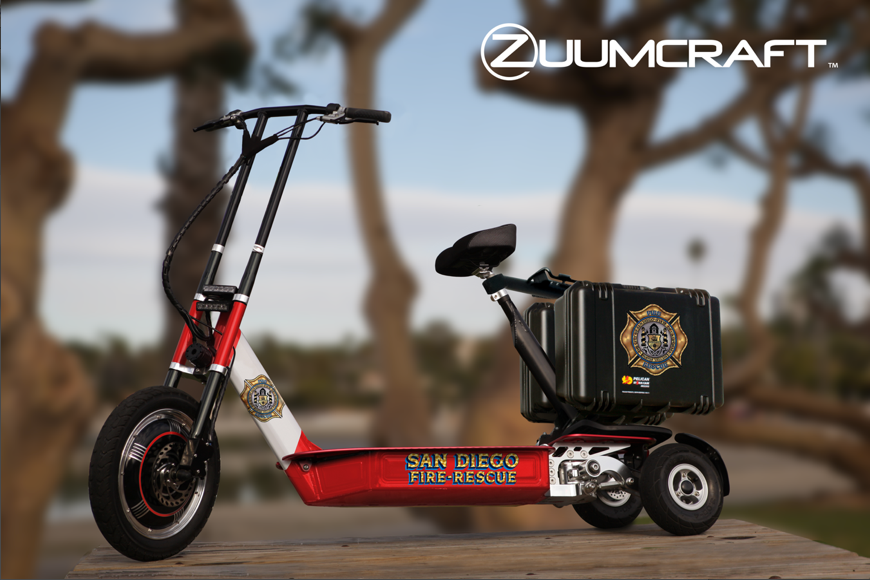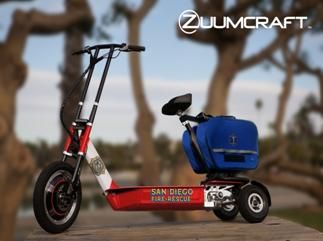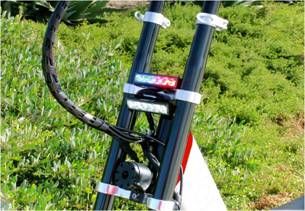 The EMS model is a rugged platform delivered in your department colors, insignia, with Code 3 type lights and siren. Department EMT-Paramedic teams appreciate the intuitive natural ride; improved rider safety: reduced fatigue;  improved visibility from the 9" elevated deck.  The narrow footprint enables quicker response even in crowded environments. Vehicle design enhances community relations while providing comfortable ride. The design enables standing or seated riding or station keeping.  The noseless seat design provides easy on-off.  Over 30 mile range on a single charge from  advanced lithium-ion battery technology. Easily replaceable batteries extend range use.  Cost effective solution, usually 1/3 to 1/2 the cost of other motorized solutions.

About ZuumCraft, Inc. – a San Diego, California, based company designs, manufactures and markets premium light electric vehicles serving commuters and the special needs of Fire-Rescue EMS, police and security agencies.   The Zuumer TM platform offers patented state-of the-art suspension technology," Integrated Steering Dynamics" TM (ISD TM), that provides intuitive ride handling,  increased safety and rider comfort.
CONTACTS
ZuumCraft, Inc.
info@zuumcraft.com
Note to editors: For more information about the ZuumCraft's EMS model, or the company, please visit  www.zuumcraft.com/patrol