Public Safety Agency Announces Major Improvements Since Implementing Aladtec for Staff Scheduling and Workforce Management
Greenville, NC - When you discover something that makes your life easier it's pretty hard to give it up. One EMS Director has been implementing the same administrative tool at agencies where he's worked since 2008.
"I have been using Aladtec for staff scheduling, and other workforce management tasks, for eight years. I've introduced it in every service where I've been a Director. I have used other systems but Aladtec is by far the best. This system stands out because it is great for both admin and field staff. Many systems are easy for the admin staff to run, because that's who the provider is selling the software to, but the member users hate it because it is hard to use or not intuitive. Aladtec however, is easy to use and intuitive for all; it takes almost no hands-on training to get new users up and running," explains Andrew Coccaro, EMS Director for Washington-Tyrrell County EMS and Non-emergency Transport, Plymouth, North Carolina.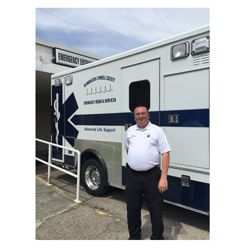 Coccaro says he has implemented Aladtec at organizations who were using a spreadsheet and also at agencies where they were using an online system. "When I arrived here at Washington-Tyrrell County EMS they were using another online based scheduling software that was the cheapest thing on the market, and it showed," shares Coccaro. "Everything except the login process was bad. It had multi-color schedules for no reason, which made the screen almost impossible to read. It had a rotation that you could build, but it would only allow you to build it the way the vendor set it up for you. If you ever wanted to change or add anything you had to send a request in and hope they got around to it sooner than later."
In short order Coccaro switched the agency over to Aladtec for scheduling their 61 staff members. He also uses a number of the system's other features, including Forms and Notes.
"Aladtec has so many great unique features, however one of my favorites is Forms. It allows anyone, and I mean anyone, the ability to easily make custom forms. There are also many pre-made forms in the system that you can use or tweak to fit your needs. With little to no effort, I've made complex forms which we can fill out, review and store in our Aladtec system. We currently use Forms for daily truck and bag check-offs, employee evaluations, EMD fall out calls (which need to be reported to our communication center), and for logging non-emergency transports that are missed due to our units being out of service or the facility did not call us," says Coccaro. "I am also a big fan of the new Daily Schedule Notes. This handy little option gives me the ability to leave notes for crews and shifts as they come on duty. It will also add these notes to the shift reminder that the system sends out prior to the person's shift. Notes gives me an easy way to get daily specific information to the crews without my command staff having to call several crews or stations every day."
This agency previously spent over a week to create the monthly schedule. Coccaro indicates it now takes just 1.5 hours. He also states they save an average of $1,100 a month in overtime which was needed to get the schedule done on time. "With the old system, staff would have to stay late or work on the weekend. This is a great cost savings to us, not to mention a moral booster for command staff since we don't have to work beyond our normal hours of operation any longer," he adds. "We can also use Aladtec from anywhere on any computer or device. The staff and admins love that ability - there's no other way to put it. It allows easy access to the system when you are away from your computer."
The Aladtec system can be configured for each agency's specific requirements and can easily handle complex rotations often found within the Public Safety Sector. "We have a modified 24/72 schedule that has our staff work a split Sunday shift that no other software has been able to handle. Since our Aladtec system is built for our agency, I can modify anything and everything to suit our needs. It really is a new world when you have a system that really works well for you. Simply put, Aladtec is by far the best system on the market," concludes Coccaro.
About Washington-Tyrrell County EMS and Non-emergency Transport:
This agency is located in Plymouth which is located on the Roanoke River north of North Carolina's Inner Banks region. Along with emergency and non-emergency transport, they also have a State Medical Assistance Team (SMAT-III) that also responds to disasters and provides treatment, decon, triage and medical support. Their mission is to serve all customers and focus on delivering high quality care to the sick and injured.
About Aladtec:
They proudly provide online employee scheduling and workforce management software to nearly 1,600 organizations, primarily within the Public Safety Sector. These customers count on Aladtec every day to help them save time and improve efficiency. For information about their affordable industry specific options, or to try a free trial, please visit www.aladtec.com.