PRESS RELEASE
FREE Webinar: Demystifying Healthcare Software Automation
---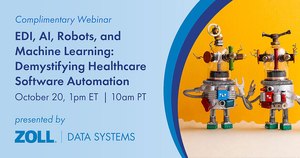 Join healthcare automation expert, Alex Svitnev from ZOLL Data Systems, as he dives into the unique characteristics of machine learning (ML), artificial intelligence (AI), and electronic data interchange (EDI). 
In this webinar, Alex will discuss the pros and cons of automation via Robotic Process Automation (RPA) in consideration of healthcare data and integration standards.
Register to learn:
What are AI and RPA, and are they the same? 
What is EDI, and can it be used with AI? 
How does automated healthcare software impact billing, coding, and claims management?
Date: October 20, 2022 
Time: 1pm ET | 10am PT 
Register today at Webinar: Demystifying Automation in Healthcare Software (zolldata.com)

Request more info from Zoll Data Systems
Thank You!