PRESS RELEASE
Rescue Essentials announces the release of the QuikLitter Lite™
---
SALIDA, Colo. — RESCUE ESSENTIALS, a Colorado based tactical medical supply and training company, has recently released the newest addition to their popular QuikLitter line of soft litters, the QuikLitter Lite™.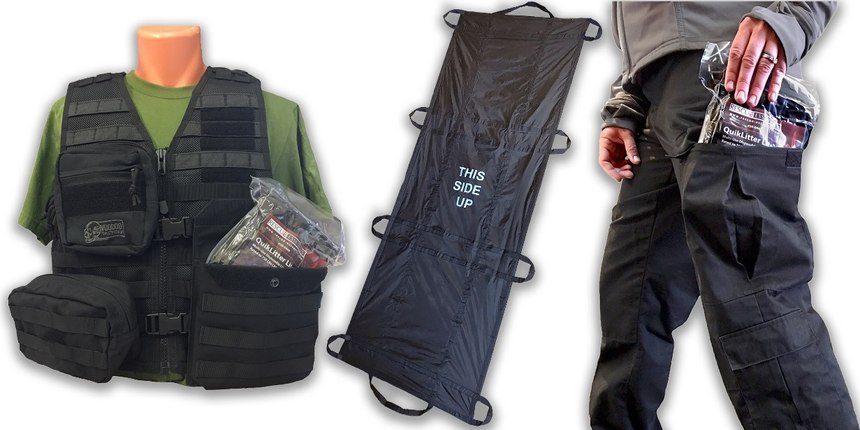 In response to the need for multiple litters at an MCI or active shooter incident, the QuikLitter Lite™ was specifically designed to be compact and lightweight. This highly compact size allows multiple litters to be easily brought on scene with the rescue task force. It's sized to fit in the cargo pocket of most tactical / EMS pants, weighs a mere 12 oz, and is rated to carry up to 750 lbs. The optional nylon holster allows it to be easily mounted to tactical or rescue task force vests. This is the ideal tactical transport solution. Dimensions: Packaged 6" x 7" x 1.75", Open Litter 27"x74". Weight: 12oz. Capacity: 750 lbs (340 kg). MSRP: $25. Additional information on the QuikLitter Lite™ and the entire QuikLitter™ line can be found at: https://www.rescue-essentials.com/rescue-essentials-quiklitter-lite/
About Rescue Essentials
Rescue Essentials manufactures and distributes emergency medical products from basic first aid to advanced trauma management. Rescue Essentials offers top quality products at extremely affordable prices, delivered in a timely manner with flat rate $4.99 shipping. Their commitment to professional rescue products and training has made them a valued resource for EMS, law enforcement, military and wilderness SAR agencies. For more information on Rescue Essentials and their products visit www.rescue-essentials.com or call (719) 539-4843.

Request more info from Rescue Essentials
Thank You!