Italian company Spencer looks to break into U.S. market
EMS Today in Baltimore was the first show Spencer had a booth at
---
By Erin Hicks
EMS1 Associate Editor
With more than 1700 products, 120 employees and a history spanning almost two decades, Spencer, an emergency services manufacturer, is not a small one. That said, you may not have heard of it because the company is based in Parma, Italy.
In fact, they are just starting to break into the U.S market, and EMS Today in Baltimore was the first show that they have held a booth at.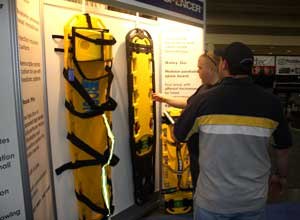 "The opportunities in the U.S are very big and we want to do it in the right way," said Sonia Arquati, USA Business Development at Spencer. "We have completed our first exhibition to evaluate the strategy for the U.S. and the feedback was incredible. It was a very positive experience for us."
Spencer displayed a handful of products, but the newest were the Tango and the Contour.
The Tango is a new backboard first released in 2008. This 2-in-1 spine board combines the features of a pediatric and adult spine board, therefore reducing the inventory you need in your ambulance and optimizing stocking space to satisfy all patient requests and still stay ergonomically sound.
The Contour is a head immobilizer that, when used in combination with a spine board and rigid cervical collar, enables safe and comfortable transport of a patient in critical condition.
What's unique about the contour is it's not made from foam — the material is made from a self filming polyurethane and the color isn't painted after the production but is inside the material. All this means it keeps its form, it doesn't absorb liquid and it's easy to clean.
"We guarantee better immobilization and better comfort to the patient because it's not flat, it's curved like the head of the patient; moreover it could be used both for adult and child patients," Arquati said.
In fact, the company has a world-wide reputation for having a high standard of quality and for the innovation of the products. The manufacturer exports their products in Europe, India, South America, China, South East Asia and has very important references worldwide, according to Arquati.
The company is scoping out the U.S market and feels that they could also find success here, she added.
"We could be very successful in the U.S. because we don't have competition on this kind of product," Arquati said. "Americans are open minded and I think they could appreciate something that is different and has a good reputation worldwide. So why not sell in the U.S.?"
Spencer has been inventing and manufacturing solutions for emergency services since 1989. Today, they have about 1,700 products being used all over the world. Check them out online at www.spencer.it/eng.

Request product info from top Patient Immobilization & Splints companies
Thank You!