Minn. executive order extends deadline for state EMS certifications
The order extends the deadline by three months and allows continuing education to be completed remotely
---
By Laura French
MINNEAPOLIS — Minnesota Gov. Tim Walz has issued an executive order allowing the state's EMS regulatory board to extend the expiration date for state-issued EMS certifications by three months.
EMT, AEMT and paramedics with certifications issued by the Minnesota Emergency Medical Services Regulatory Board (EMSRB) that expire on March 31, 2020 now have until June 30, 2020 to renew them, according to an EMSRB announcement.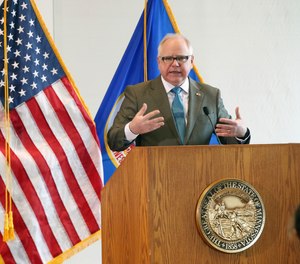 The order also allows certificate learners to complete their continuing education requirements remotely.
Earlier this month, the National Registry of Emergency Medical Technicians (NREMT) announced a deadline extension for nationally registered personnel, also moving the expiration dates for certificates from March 31, 2020 to June 30, 2020.
Additionally, the NREMT approved provisional certifications during the national emergency due to the closing of psychomotor exam centers.
The EMSRB has urged Minnesota EMS agencies to maintain normal operations as much as possible during the crisis, after the state's peacetime emergency declaration on March 13 lifted some requirements for items and equipment to be carried on ambulances, responder certification and emergency driver qualifications.
Additional resources
Learn more about COVID-19 response and state EMS actions with these resources:
see the full executive order below

Request product info from top EMS Online Training companies
Thank You!