Listen up! Auscultation tips for EMTs, paramedics and students
Gain confidence in the difference between normal and abnormal by auscultating lung sounds on every patient
---
Auscultation, which is to listen, with a stethoscope is part of every patient assessment. At a minimum, EMTs and paramedics are expected to auscultate a patient's blood pressure and listen to lung sounds as part of a respiratory illness physical exam. [At the end of this article, download an auscultation tip sheet for easy reference]
In some situations, paramedics might auscultate a patient's heart sounds or a long bone to assess for a fracture. But hearing through a stethoscope in the chaotic prehospital environment is a constant challenge. Bystanders and partners talking, dogs barking, idling vehicle engines and more can make it difficult to hear the transmission of audio waves from the patient's lungs, heart, bowels or arteries through the stethoscope tubing and into your ears.  
If you are having a hard time hearing through your stethoscope, here are a few things to try. I have also added additional tips from other EMS educators, so read all the way to the end of the article and submit your own tips to be added to the list.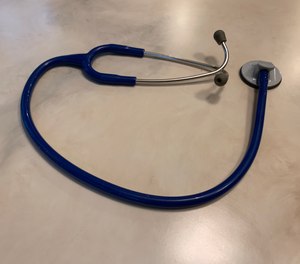 Bonus tips from EMS educators 
I asked some of my favorite EMS educators, including Ginger Locke, Rob Theriault and Rom Duckworth, for their stethoscope tips for EMT and paramedic students. Here is what they and several others had to say. If you have a tip for new EMS professionals, submit your tip in the form below and we'll add it to the article.  
"Some manufacturers use what is called 'tunable technology.' Using this technology, the chest piece can be used like a bell or a diaphragm depending on how much pressure is applied to the chest piece," Ginger Locke, paramedic and Medic Mindset podcast creator, said. "The benefit of this is that once a sound is heard, the clinician doesn't have to lift the stethoscope from the chest and risk losing the location where the sound was heard. Many new clinicians are walking around with this technology, but are unaware of the functionality." 
"The stethoscope is one of the most important and underutilized tools in the paramedic's diagnostic toolbox," Rob Theriault, paramedic, educator and author, said. "At a bare minimum, it should be used on every single patient with a respiratory or a cardiac complaint to assess lung and heart sounds."  
"Whether you are using an acoustic or electronic stethoscope, be very mindful of the pressure you are applying," Rom Duckworth, paramedic, educator, and presenter, said. "Fine adjustments of pressure will make a world of difference to what frequencies you hear, or if you hear anything at all." 
"Hold the stethoscope lightly between your index and middle finger with the tube draped over your thumb to minimize artifact," Brittany Prater, paramedic and EMS educator, said.  
"Clean your stethoscope with an alcohol swab in front of your patient," Kevin Collopy, paramedic and EMS educator, said. "To allow it to dry before use (air drying helps the alcohol kill bacteria) clean it while talking to your patient and let it dry while counting a pulse or respirations, once it is dry you can use it on your patient. This helps prevent the spread of diseases and helps us slow and work methodically." 
"Use the bell of your stethoscope, not the diaphragm," writes Kelly Grayson in an article on blood pressure reading tips and tricks. "The bell of your stethoscope works better on those low-frequency sounds. Try for yourself and you'll see." 
"Start on the back and move to the front," Steve Whitehead teaches when assessing lung sounds. "The best lung sounds you are going to hear are on the patient's back." 
Learn more about auscultation 
Even though the stethoscope has been around since the early 1800s, it is an essential piece of assessment equipment, that you can always learn to use more effectively. Check out these additional articles to learn more.  
Fill out the form below to download your copy of the Tip Sheet: Auscultation tips for EMTs, paramedics and students
Auscultation tips for EMTs, paramedics and students