The evolution in tourniquets
SAM's new product is unique and quick to apply
---
There is a new high-tech tourniquet from SAM Medical. SAM is famously known for their SAM Splints, SAM Chest Seal, CELOX Trauma Gauze, the SAM Pelvic Splint, and other great EMS products.
The SAM Junctional Tourniquet or SJT does things no other tourniquet can; it occludes the femoral artery in the inguinal area at the junction of the torso and legs. When blast injuries take off legs like in Boston and every day in combat zones, it can easily be fatal. It is frequently difficult if not impossible to stop the bleeding in time. Sometimes there is just not enough leg left to get a tourniquet around.
The SAM Junctional Tourniquet puts pressure on the arteries feeding the legs. It does this with a sophisticated mechanism of action that is easy to use and fast to deploy. You can put it on in under 25 seconds with a little practice.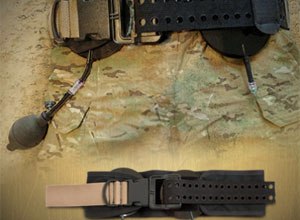 It is also a pelvic splint. It is not unusual for a bomb blast to also fracture the pelvis when it takes off a leg. Since the new SJT is based on the SAM Pelvic Splint it will be instantly familiar to anyone already using these splints. It is always nice when an EMS product can be effectively used for more than one thing.
You first apply the belt or pelvic splint, positioning it around the hips. Then you position one of the two Target Compression Devices or TCD over the inguinal area. The TCD is a collapsed plastic disk that comes out like a piston when inflated. If one leg is affected you use one TCD, if two legs you use both. Then you pull the straps tight until you hear an audible click.
The clicking sound lets you know when you have reached optimal pressure for pelvic fracture reduction. Then you use an inflation ball not unlike on a BP cuff. This inflates the TCD and applies enough pressure to the femoral artery to stop the bleeding.
I tried it myself and a few thoughts came to mind. It can do things no other tourniquet can because of how very differently it works. A regular tourniquet encircles and compresses the entire limb. The SJT puts direct pressure on the only part of the limb that actually matters, the artery. It is well designed, ruggedly constructed, and terribly clever.
One of the things I like about it is the way it comes completely assembled and ready to use. Everything is pre-attached and even the optional pressure bar is tethered to the device. The only loose part is an optional strap for securing the splint with a three-point attachment.
It only took a few squeezes of the inflation ball to apply enough pressure to stop blood flow. I was surprised how quickly it worked and how effective the inguinal pressure point is.
I imagine it would work on lower leg bleeding too. You may want to save it for the "big one" because it is a lot more expensive than a windless style tourniquet. It is only about a pound in weight but it is more bulky to carry. You won't see this one hanging off belts or in many personal kits.
These are more caveats than negatives because the SJT will save lives that would otherwise be lost. Junctional amputations are some of the toughest bleeds to control in the field. The SJT fills the complete void of solutions for these type injuries.
It is perfect for combat field medicine, tactical EMS, and disaster response. If you have the known risk potential to be treating blast injuries you should take a closer look. This is one new product that I expect will eventually wind up as mandatory equipment for EMS.
Request product info from top EMS Medical Equipment companies
Thank You!