3 innovative products showcased at EMS Today
The Podmedic highlights three of his favorite products from EMS Today 2015
---
By Jamie Davis
I have been attending EMS Today since got started in EMS, and the conference  has provided me an opportunity to attend informative educational sessions and to see what new tools of the EMS trade are available for us. As founder and host of the MedicCast I enjoy sharing my favorite products from the conferences I attend.
Three innovative products – a simple airway device, a mass trauma management and triage tool, and an all-in-one portable assessment and diagnostic patient monitor – captured my attention at EMS Today.
1. i-gel supraglottic airway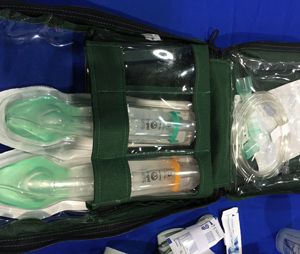 At the top of my list is a product brought to my attention by paramedic, friend, blogger and EMS1 columnist Dan White. Dan has been in EMS since the mid-1980's as a field medic, product rep for various medical devices, and an inventor of EMS tools and gear.
Dan showed me the i-gel, an anatomically molded supraglottic airway that can be rapidly inserted to quickly manage an airway in patients that are difficult to intubate, in situations where intubation is not available, or as a quick response adjunct in resuscitation attempts.
The new i-gel O2 Resus Pack puts all the things you need at your fingertips. The pack contains an i-gel O2 supraglottic airway, a gastric suction tube, gel lubricant and a neck strap to secure it in one place. The i-gel comes in several sizes to accommodate patients from 30 to 100 kilograms.
Find out more at i-gel.com.
2. ROVER kit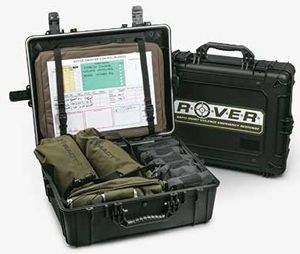 My second pick is a product for managing mass trauma incidents, like an active-shooter, that require a tactical evacuation approach for critical patients. The team at Kingfisher Medical developed the ROVER kit, which is a rapid trauma triage kit for multiple patients in one easy to carry case.
The ROVER kit is available in various configurations. The basic load-out includes four individual first aid kits that contain airway management tools, a chest seal, a CAT tourniquet, a pair of trauma shears and a SMART Triage tag. There are also two roll-up military-style litters to rapidly extricate patients to a treatment area and a command module to manage patient disposition and care.
The paradigm of "scene safety" at all costs has changed and many systems now assign EMS providers to sweep an incident for patients with police officers. EMS providers need to rapidly identify and treat life-threatening injuries to patients inside the warm zone of an active-shooter incident then extricate the patients to waiting emergency medical teams in a safer area for transport to definitive care by ground or air.
While the walking wounded can self-extricate as they are found by police, the most severely injured patients must be rapidly extricated in order to have any chance of survival from life-threatening hemorrhage. The ROVER is small enough to be placed on every ambulance, and multiple ambulances can pool their ROVER kits to treat more patients.
Find out more at kingfishermedical.com
3. Tempus Pro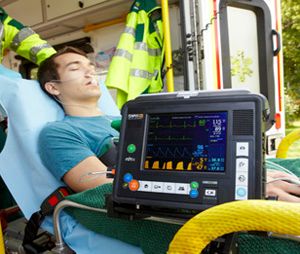 Finally, the Tempus Pro is unlike anything I have seen before. It's a true one-stop tool for assessment and diagnosis of patients in the EMS setting. The Tempus-Pro is a small touch-screen patient monitor that packs a lot of capabilities in one compact device. It includes 4-lead or 12-lead ECG monitoring for up to 30 patients, EtCO2 monitoring, SpO2 monitoring, blood pressure monitoring, built-in video laryngoscopy and ultrasound capabilities. It also includes an integrated digital camera, built-in WiFi, Bluetooth and cellular wireless capabilities, and full USB PDF export of the patient record, including video and still photo capture and transmission.
Originally manufactured for use by the military, the move to the civilian EMS sector brings the full patient monitoring capabilities to the back of the ambulance. The Tempus Pro is built to military durability specifications with a 10-plus hour battery to utilize its telemedicine capabilities. The Tempus Pro is sure to be a useful tool for community paramedicine programs conducting discharge follow-up and frequent patient assessment and monitoring. The Tempus Pro costs the same as other patient monitors we already use, with a far greater capability package.
Find out more at www.RDTLTD.com.
Look for more on these products and video segments about each, plus special interviews and panel discussions from EMS Today 2015 at ProMedNetwork.com. If you have other products or sessions you thought were special make sure you leave a comment so I can check them out.
About the author
Jamie Davis, the Podmedic, is the host of the MedicCast and Nursing Show podcasts. As a paramedic and RN, he is passionate about educating health care professionals about emergency medicine and patient care. Check out all his programs at MedicCast.com or connect with the Podmedic on Facebook or Twitter.