Medics test readiness ahead of Formula One race
There will be 11 stationed ambulances, seven spectator clinics and a medical team of first aid volunteers
---
By Laala Kashef Alghata
Gulf Daily News, Manama, Bahrain
BAHRAIN — More than 200 medical professionals will be on hand at this weekend's Formula One race.
Doctors volunteering for the three-day motorsport spectacle at the Bahrain International Circuit (BIC) will also fly in from as far afield as Canada and the UK, as well as from neighbouring Saudi Arabia.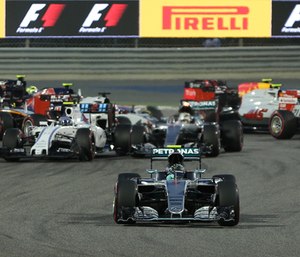 There will be 11 stationed ambulances, seven spectator clinics and a medical team of first aid volunteers, said BIC chief medical officer Dr Amjad Obeid.
The team of medics consists of 55 paramedics, 45 doctors and 50 nurses along with technicians, including pharmacists and anaesthesiologists.
They have been training twice a week for the last two months, with the entire team expected to take part in a full-scale medical drill on Thursday at the BIC.
"We've been training our extradition team for the last two months, twice a week," Dr Obeid told the GDN.
"All the medical equipment is checked by the Health Ministry and updated for any issues.
"All equipment as per Federation Internationale de l'Automobileto (FIA) rules and regulations have been provided by the Health Ministry."
Dr Obeid was speaking on the sidelines of the Motorsport and Medicine Seminar held yesterday (april9) at the Crowne Plaza Hotel's Bahrain Conference Centre (BCC), where he highlighted the importance of co-ordination between the enormous team.
"The team is made up of 210 members," he said.
"We have doctor-volunteers coming from Saudi Arabia, Canada, and the UK.
"We also have 11 ambulances, seven spectator clinics, and a medical team of first aid volunteers on foot to take care of minor injuries.
"The team consists of 55 paramedics, 45 doctors, 50 nurses, and technicians, whether pharmacists or anaesthesiologists.
"The drill is important because it's an annual simulation drill, mandatory by FIA, and it tests our capability of co-ordination of all the teams on the track, whether it's medical, intervention, ambulance, medical centre and the air medical evacuation.
"We've been working on this for two months, but we have to apply it in front of the FIA and we'll be timed and evaluated.
"Basically, if an accident happens in the race, that'll be the second accident we've dealt with (because of the drill), not the first.
"We have the experience and co-ordination necessary."
Health Minister Faeqa Al Saleh said that during last year's race 559 patients were treated from spectators and 100 from the teams, with no injuries recorded for any of the drivers.
Any severe injuries would be medically evacuated by helicopter to Salmaniya Medical Complex (SMC).
"I remember when we started training for the Formula One medical aspect, it was like we were crawling as we tried to figure out what could happen," said SMC medical services chief Dr Jassim Al Mehza.
"We had to see what could go wrong, tried to understand the different injuries, what crashes have happened, what injuries could come from flying debris.
"The team searched for the answers, researched and then got into communication with experts, created a dialogue until we reached a point of preparedness.
"It's such a point of pride now that we are to teach others abroad and we have now become a point of reference for this sport."
The Bahrain Grand Prix will be held at the BIC from Friday until Sunday.
___
(c)2017 the Gulf Daily News (Manama, Bahrain)