Texas fire dept. charging non-residents for rescue services
Fire Recovery USA, a California-based recovery service, is helping the Palestine Fire Department recoup costs from at-fault accidents of non-residents
---
William Patrick
Palestine Herald-Press, Texas
PALESTINE, Texas — Tourists and other non-residents driving through Palestine need to exercise caution – if they want to avoid getting socked with an unexpected bill.
Effective two weeks ago, those involved in car accidents requiring the fire department might get billed for rescue services. The new policy applies to non-resident drivers who are at fault.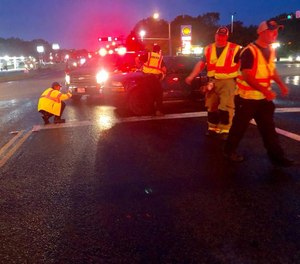 The Palestine Fire Department began using Fire Recovery USA, a California-based recovery service, to recoup some of the costs of equipment and supplies used during at-fault accidents caused by non-residents.
Firefighters collect insurance information from drivers on-scene, and enter it into an already used reporting system. Fire Recovery USA then works with the city to bill non-residents and their insurance companies. In return, the company keeps 20% of the costs recovered.
City officials don't know how much money the new policy will generate.
Each incident requires different equipment and supplies, but officials at Fire Recovery USA estimate the average cost for serving at-fault motorists is roughly $500 per accident.
The PFD responds to an average of 26 motor vehicle accidents per month. Of those, it's impossible to predict how many will involve an at-fault, non-resident driver responsible for service costs.
Money collected will pay to replenish and replace fire department equipment and supplies. The current annual city budget for fire department equipment is $20,000.
City Council members, who passed the initiative in January, hope billing non-residents for services will save tax dollars.
"The city can put the money we save from this program into other services, like road repair," Palestine Fire Chief Shannon Davis told the Herald-Press Tuesday. "I thought it was important not to charge tax-paying residents; it's not double taxation, but I don't think it's right."
Mayor Steve Presley, who introduced the idea, told the Herald-Press charging non-residents for city services makes fiscal sense.
"It's not fair for our residents to pay for services provided to those who don't pay our taxes," he said.
The practice of billing non-taxpayers for emergency services is widespread. Fire Recovery USA has served municipal clients for 15 years. Some fire departments also choose to do the billing themselves.
"We've been doing it ourselves for years," Margaret Carrico, administrative assistant for the Tyler Fire Department, told the Herald-Press Tuesday. "We bill non-taxpayers for at-fault accidents. We will also bill if the department is called outside of the city for service."
Corsicana Fire Chief Paul Henley told the Herald-Press his department does not recover costs for its services, but he has considered it.
"Getting everything needed into the general fund just gets more and more difficult," he said. "Anything that can help with that, and ease the burden on the taxpayers, is worth looking into."
Davis said it will be years before the city can accurately assess the program and how much money it has saved taxpayers.
"If we save only one dollar this year, it's a dollar we didn't have before," he said.
———
©2019 the Palestine Herald-Press (Palestine, Texas)
McClatchy-Tribune News Service

Request product info from top EMS Financial, Insurance & Legal Services companies
Thank You!