Pa. EMS agency subscription drive raises funds, saves money
Subscriptions provide residents with discounts of up to 50% on any out-of-pocket expenses, including deductibles and copays once insurance payments are applied
---
Michael DiVittorio
The Tribune-Review
Plum residents and business owners can help borough medics and save money on emergency transports through a subscription drive.
Registration for the annual Plum EMS fundraising effort is underway.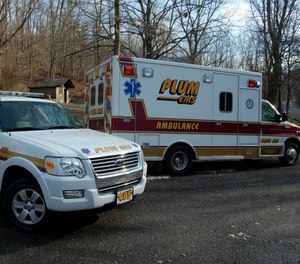 EMS Operations Director Brian Maloney said the department usually receives about 4,200 subscribers, which is 30 to 35 percent of all borough residents and businesses.
"We typically don't have a goal in mind (for how many subscribers)," Maloney said. "It does help us out. It can save people a lot of money, especially if they're in a bind.
Residents can receive discounts of up to 50% on any out-of-pocket expenses, including deductibles and copays once insurance payments are applied.
Subscribers are also offered six free lift assists per year, which typically cost $75 each, and access to training.
"One of our community educational programs provided is cardiopulmonary resuscitation on a monthly basis," Maloney said. "As an advocate for people to learn CPR, Plum EMS also offers subscribers two free classes per household each subscription year," Maloney said.
Classes are normally $40 per person.
Subscriptions help the department pay bills as well as obtain specialized equipment like mechanical chest compression devices, video laryngoscopes and powered stretchers.
Maloney said the department's annual budget is approximately $1.5 million, with about $135,000 coming from subscriptions.
Plum EMS, established in 1991, currently employs 40, including 20 paramedics. They responded to at least 3,000 calls for service last year.
Two ambulances are available from 8 a.m. to midnight seven days a week, and at least one ambulance is available during the remaining hours.
Subscriptions are valid through Feb. 14. The cost is $15 for an individual, $25 for a household and $40 for a business.
There is no limit on how many people are in a household, just as long as they all live in the same home.
The business membership extends to the owner and their employees for all emergency calls to the business.
Call the station at 412-793-4801 or go online to plumems.com for more information.
———
©2019 The Tribune-Review (Greensburg, Pa.)
McClatchy-Tribune News Service

Request product info from top EMS Financial, Insurance & Legal Services companies
Thank You!