Creative Pet Products delivers first aid kits tailored for police, military K-9s
The kits contain gauze, scissors, antiseptic iodine solution, cold packs, hydrogen peroxide, mouth attachments and more
---
By Doug Wyllie
While walking the law enforcement section of the SHOT Show 2016 expo, we ran into an interesting pair of products in the tactical emergency medical care arena, but these kits are unlike what we've increasingly been seeing in the cargo pockets of patrol officers. The kits from Creative Pet Products are purpose-built for K-9 partners in both law enforcement and the military.
The kits are not exactly a new concept — the company has been producing first aid kits for house pets, service animals or hunting partners for 15 years — but they're just making their way into the law enforcement and military market. The company is ratcheting up their efforts to serve police and military because there is big demand from those sectors with K-9 partners increasingly going into harm's way.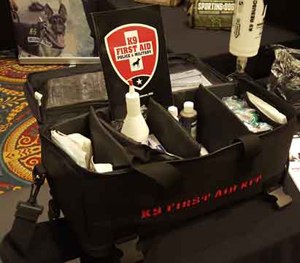 A company spokesman said that they feature two different kits which can be bought separately, or are available for purchase together at a discount. The first is a basic first aid kit containing everything you might expect, including gauze, scissors, clotting agent, a staple gun, antiseptic iodine solution, cold packs, hydrogen peroxide and even a first aid book. The resuscitator kit contains several mouth attachments to go over the dog's face, depending on whether you are aspirating or resuscitating the animal. The two kits can marry together with corresponding clips at the bottom of the first aid kit and top of the resuscitator kit.
Having these kits on hand in the trunk of the K-9 unit is one thing, but really being able to effectively use them requires additional training. During a visit to the Elite K-9 booth, I learned that Police K-9 Magazine is holding its annual conference in Las Vegas March 8-9 at the Tuscany Suites, and that among the sessions they historically offer are talks from experts such as Lee Palmer and Jo-Anne Brenner. This year the pair will deliver a seminar entitled "A Hands-on Introduction to K-9 Tactical Emergency Casualty Care."
We have tragically seen too many K-9s lost in the line of duty — it's not even the third week of January and we've already seen one K-9 die of asphyxiation and two others shot and killed. As we ramp up our tactical casualty combat care for our officers, we need to also remember our four-legged partners.