What EMS leaders, educators can learn from continuing education data
An analysis of 8.7 million CAPCE continuing education records show how and when paramedics and EMTs earn CE for state and National Registry recertification
---

LAS VEGAS — More than 8.7 million continuing education completion records revealed that nationally certified EMS providers complete more CE than state only certified providers, hundreds of thousands of courses are completed after a provider's certification has expired and virtual instructor led training represents only one percent of EMT and paramedic refresher course.
The data behind these findings comes from the Commission on Accreditation for Prehospital Continuing Education and was delivered by Juan March, MD, FAEMS, FACEP, CAPCE board of directors chair, to paramedics, educators and EMS leaders at EMS World Expo.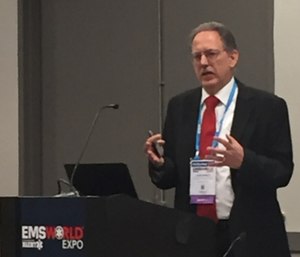 CAPCE, the organization formerly known as CECBEMS, which sets standards for EMT and paramedic continuing education courses, adds records to its database through XML upload or real-time reporting by continuing education providers. Direct, real-time record transfer from CAPCE to NREMT is coming soon.
Memorable quotes on CAPCE Data
Here are three memorable quotes from March on what EMS leaders and educators can learn from the continuing education data collected by CAPCE.
"CAPCE promotes continuing education by setting standards and encouraging innovation to help move continuing education forward for everyone."
"Whether it's the opioid epidemic or active shooter we all need continuing education."  
"Everybody loves trauma."
Top takeaways on CAPCE data analysis
Here are four top takeaways from March's presentation on CAPCE continuing education records.
1. Nationally registered EMS providers complete more CE
Based on analysis of CAPCE records since 2005 from more than 1 million EMS providers, March reported that nationally registered EMS providers earn more continuing education than EMS providers who are only state-certified. From the database March reported:
3,100 courses are completed per day
21 percent of CE records are from providers who are only state certified
79 percent of CE records are from providers who maintain a National Registry certification
Nationally registered EMS providers are 2.5 more times likely to complete CAPCE accredited continuing education programs. March reported:  
3.9 records are earned per state-certified provider
10.1 records are earned per national registered provider
March also shared a number of slides about topics areas with the most course completions. Trauma is the most popular topic type. March shared that, surprisingly, pediatric courses only make up to two percent of course completion records. 
2. Courses completed after certification expiration
March shared records of course completion after a provider's certification was expired. He wasn't quite sure what the data means, but the total course completions while a state or national certification is expired represented hundreds of thousands of records.
3. Refresher training through Virtual Instructor Led Training
CAPCE accredited 291 EMT and paramedic refresher courses in the last certification year. Only three of the 291 refresher courses are Virtual Instructor Led Training. Though the available data is low, VILT refreshers seem to be more popular for paramedics than EMTs.
4. Real-time reporting is the future of CAPCE data
Course record submission to CAPCE peaks in December and April. March attributes the December peak to EMS providers who don't procrastinate to earn continuing education for their recertification. The April peak is attributed to the large number of course completions in March to meet the March 31 NREMT deadline, but are not reported until April.
Sometime before the end of the year CAPCE will automatically transmit course completion data to the NREMT. Alpha and beta testing has been completed for real-time data transfer. Look for a joint news announcement from the NREMT and CAPCE soon.
Learn more about CAPCE, continuing education and online training
Complete CAPCE-accredited courses on the EMS1Academy.
Check out these EMS1 articles and resources to learn more about continuing education and online training for EMTs and paramedics.

Request product info from top EMS Education companies
Thank You!