1 simple question to increase audience participation
Tackle the difficult challenge of encouraging audience or student participation by asking this simple question and waiting for a response
---
"A type of shock?"
"Anyone?"
"Vo... Vol... Shock?"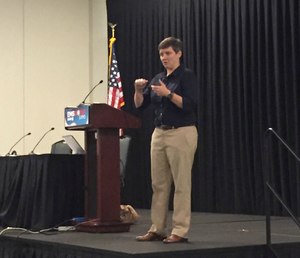 "Anyone?"
"Volume Shock."
Enticing, encouraging and cajoling members of a presentation audience or students to participate during any type of training program is one of the most difficult challenges trainers and educators face. Regardless of the setting, use this tip to improve participation.
What questions do you have?
"Do you have any questions?" is a "yes" or "no" question and almost always results in a "yes" or "no" answer. Most often members of the audience sit like statues - a silent affirmation of not having questions. 
Instead of saying, "Do you have any questions," try asking, "What questions do you have?"
Then count to 10 slowly in your head.
This gives audience members the time to think of a question, organize how to say it, and then ask it.
This is really hard, but count slowly! Counting to 10 seconds will seem like an agonizing amount of dead air, but it works. Trust me. 
I discussed this technique of asking for questions with Ginger Locke, paramedic and host of the Medic Mindset podcast. Locke uses our conversation as a jumping off point for a brilliant exploration of the importance of listening, especially during patient assessment. 
Say the words exactly and patiently
Keep using the exact phrase, "What questions do you have?" and members, students and participants will soon start learning the prompt; after just a few sessions, they will be asking questions before you count to five seconds.
How do you encourage EMS audience participation? Share your tips and tricks in the comments area below.
This article, originally published February 26, 2009, has been updated with current information

Request product info from top EMS Education companies
Thank You!