Car drives into Fla. hospital through ambulance entrance
No injuries or damage to building despite car coming to a stop in the lobby
---
By Brian Ballou
Sun Sentinel
FORT LAUDERDALE, Fla. — Treating people injured from car accidents is common practice at Broward Health Imperial Point hospital, but Sunday morning, the emergency entrance was actually the scene of an accident as a dark sedan crashed through the front doors and came to rest in the lobby.
No one was injured in the crash at 5:30 a.m., Fort Lauderdale Fire Rescue said. The identity and condition of the driver and what caused the crash were unknown Sunday afternoon.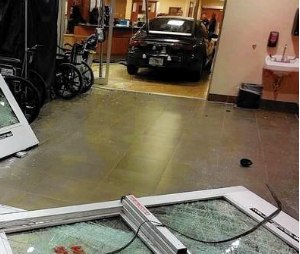 A long access road connects the emergency entrance to Federal Highway, so it is unlikely that the vehicle veered off the highway, hospital officials said.
Ambulances were diverted to an alternate emergency entrance at the hospital.
All other operations continued as normal as towing crews extracted the vehicle from the building and the cleanup ensued.
There was no structural damage to the building, hospital officials said.
©2015 the Sun Sentinel (Fort Lauderdale, Fla.)