CPR, first aid courses training students to respond to emergencies
Organizations providing first aid certification programs should examine their courses to decide if they have the right goals in place
---
By Allison G. S. Knox, EMT-B, faculty member at American Military University
Training layman students how to respond has been an important, nationwide initiative in helping to manage small-scale emergencies. The American Red Cross, for example, has numerous certification programs that include "hands-only CPR" classes and lifeguard instructor classes. These certification programs are relatively short and provide students with a general understanding of how to respond to an emergency.
What happens, however, when certification programs become abridged because of faults in the overall program? Are students still equipped with the skills they need to manage a small-scale emergency if certification programs only involve training for a test?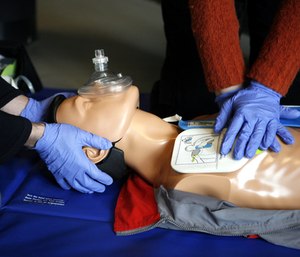 The structure of first aid certification programs
Certification programs cover topics such as first aid and CPR and often highlight some of the issues that may arise during a small-scale emergency. These programs explain to students what they would need to do to respond to such an event. As long as a student does what he or she has been trained to do, there probably won't be any crazy, negative repercussions.
Certification classes often conclude with a short, multiple-choice test, where class participants leave with a certification once they receive a passing grade. In many cases, students have a chance to retake the test if they don't earn a passing grade on the written test.
But just like many other educational settings, there is a certain expectation that students will successfully pass a course and receive certification at the end of the course. Instructors trying to meet their pass quota train students based on what a multiple-choice test requires students to understand.
This is an issue that Americans have seen throughout the country in numerous educational settings. A course may become slightly shorter, which pleases students, and those students will inevitably pass the test for the class.
However, there is an ethical question in this situation. After taking the course, will students know how to successfully handle an emergency?
In most cases, the answer to this question depends on the type of emergency and how much of the emergency situation falls within the realm of the student's training. Other factors include how well a student understood the emergency management framework of the area where the emergency occurred and the reaction of others in the vicinity who could assist with the emergency. Ultimately, how an emergency plays out is contingent on numerous factors.
If a certification program is shortened to train students to take a test, there is the potential for students to not have a clear understanding of an emergency management framework that needs to include flexibility and adaptability. 
First aid certification programs need some changes
The strength of a certification program lies in the overall policies and procedures of the organization that oversees it. If the organization has the goal that every single participant finishes with a certification at the end of a course, there will be instructors who train to the certification test. Working to make students feel confident in any emergency is an important foundational piece to emergency management and should be focused on first rather than passing a test.
Organizations that serve as governing bodies to certification programs should examine their courses to decide if they have the right goals in place. Reworking how a certification course is handled is important in streamlining how individuals respond to emergencies and improving the small-scale emergency responses.
About the Author
Allison G. S. Knox is a faculty member at American Military University in the Emergency and Disaster Management Department. Her research interests are comprised of emergency management and emergency medical services policy issues. Prior to teaching, Allison worked in a level one trauma center emergency department and for a Member of Congress in Washington, D.C. She holds four Master of Arts degrees in emergency management, international relations, national security studies and history. She is a certified lifeguard and Emergency Medical Technician and is also trained in Technical Large Animal Emergency Rescue. Allison currently serves as advocacy coordinator of Virginia for the National Association of Emergency Medical Technicians, chapter sponsor for the West Virginia Iota Chapter of Pi Gamma Mu International Honor Society and faculty advisor for the Political Science Scholars. She is also on the Board of Trustees and serves as chancellor of the Southeast Region for Pi Gamma Mu International Honor Society in the Social Sciences. She can be reached at IPSauthor@apus.edu. For more articles featuring insight from industry experts, subscribe to In Public Safety's bi-monthly newsletter.