New Orleans launches video 911
The 911 upgrade will allow callers to send images and video chat with first responders in real time
---
Jessica Williams
The Times-Picayune | The New Orleans Advocate
NEW ORLEANS — New Orleans residents and visitors having emergencies can now talk to first responders by video when they call or text 911, thanks to a program city officials say will be a big help for people in crisis.
The Orleans Parish Communications District, which handles the city's emergency dispatches and 911 calls, will also be able to better determine a person's location using upgraded software from its private partner, Carbyne, a call handling platform.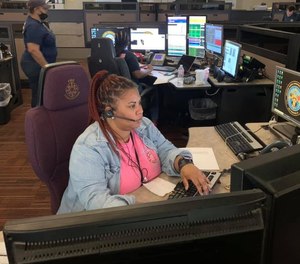 The program, officials said during a press conference Tuesday, provides a more sophisticated path to help than traditional calls.
Oftentimes during 911 calls, operators and dispatchers ask specifics that callers don't always know, such as exactly where they are, or in the case of health emergencies, the seriousness of their condition. But using location sharing or allowing video and pictures, the operators will be able to gather a lot of that information even if the caller doesn't know it.
"We are one of the few organizations now that are inviting pictures and video to 911 so we can better inform our first responders what is happening on the ground," OPCD Director Tyrell Morris said.
Someone experiencing an emergency would still need to call or text 911 to use the software, which comes at no additional cost to New Orleans residents.
After they make the call, the operator will advise the person in need of help that they will text them a link. Once clicked, the link allows the operator to access the caller's cell phone for a short time, so that the they can see what is occurring in real time.
Operators will also be able to video chat with residents or send silent instant messages in case a caller is in a situation where they wouldn't want their conversation overheard.
Carbyne has provided similar services for New Orleans since the early days of the pandemic, as first responders used video services to determine if people with flu-like symptoms or other signs of COVID-19 needed hospitalization.
The new service will open those features to all residents experiencing emergencies, and make more accurate location sharing available to the 911 call takers.
The service will provide "text to 911, video to 911, as well as the sharing of images and medical information with EMS and other first responders," Carbyne CEO Amir Elichai said.
Having accurate location services will be key when the city's tourism-dominant economy reopens after the COVID-19 pandemic, Mayor LaToya Cantrell and Morris noted. The 18 million visitors who come to New Orleans annually are often unfamiliar with street names and landmarks, and location sharing is often the only way for 911 call takers to figure out where they are.
"It's not about if we are going to improve and rebound and regain the visitors in our city. It's not about that. Because we are," Cantrell said. "And when we do, we're going to have some improved technology again, to meet our people where they are."
Morris said the service would also benefit residents experiencing mental health crises as a result of isolation and stress amid the pandemic, as callers would be able to see people in crisis and provide more empathetic responses to their needs. The real time viewing would also help in cases of domestic violence, he said.
Formed in 1982, the Orleans Parish Communication District is the public safety answering point for all emergency communications using 911 within Orleans Parish.
The agency employs over 140 people and provides emergency medical dispatch, emergency fire dispatch, and emergency police dispatch.
___
(c)2020 The Times-Picayune | The New Orleans Advocate
McClatchy-Tribune News Service
Request product info from top EMS Computer Aided Dispatch (CAD) companies
Thank You!