Sober legal advice for LAFD's new EMS program
The LAFD SOBER unit for Skid Row's frequent users is a good idea, but potential dangers to paramedics cannot be ignored
---
The Los Angeles Fire Department is proposing a new program to address the problem of frequent users on and near the famed Skid Row. As an attorney committed to the protection and defense of EMS providers and advocating for the best in patient care, I have mixed feelings about the SOBER unit. 
The issues are real. Like most large metropolitan departments, LAFD EMS resources can respond to the same person multiple times in a single day for generally non-emergent reasons. Those calls for emergency care are often related to the use or abuse of drugs and alcohol — problems better suited to a social worker and a substance abuse counselor than a paramedic, ambulance, and an emergency room.
The proposed solution is a unit staffed with an EMS provider and a community outreach worker who will follow a checklist and triage the individual either to a hospital or to a new sobering center. The idea — as an idea — is brilliant. I love it!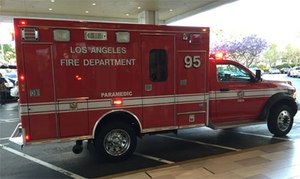 I admire and respect the LAFD for its very creative forward-thinking and willingness to solve problems. I am impressed that they are willing to break free of the chains of tradition to reach for a better, broader and more appropriate approach to patient care and people care.
In practice, however, I have grave concerns.
I am fearful for the EMS provider on the street who, when something goes wrong, will be left out in the bitter cold with nothing more than a good idea to protect him or her from the wolves.
Problem: Rigid regulatory climate
Local and state polices, protocols and procedures in California are not very flexible and are vigorously and, at times, viciously enforced.
The very first time an individual is transported to the sobering center only to go into cardiac arrest — at any point during or after transport — it is the paramedic who will be investigated, disciplined and likely face an administrative law judge who will determine whether the paramedic's license should be revoked at the behest of the State EMS Authority.
The paramedic will find little refuge in an LAFD pilot program when California's EMS Authority comes banging on the door.
Problem 2: Liability for assessment
According to the story, the paramedic would check the patient's mental status and for "evidence of head injury or seizure activity." What does that mean and how does a paramedic adequately check for such things?
We all know that in the field evidence of a head injury or seizure activity is not the same as proof of a head injury or seizure activity. Nevertheless, the way I read the news, it is the paramedic who will be held liable for making the mistake; and why not? They are now held liable for mistakes.
How to make this work
For what it's worth — and legally speaking — I think this can work and I believe it can be a great success for everyone.
First, policies, protocols and procedures that protect the paramedic from liability, while ensuring only the highest in compliance to established standards would have to be codified and accepted by the State EMS Authority before the SOBER unit's first call.
This is not something that needs to happen just in the city, but at the state level because it is the state who will come after the paramedic's license.
Next, paramedics will have to undergo extensive training and continuing education on the new policies, protocols and procedures as well as comprehensive training on patient care documentation. The proposed checklist will have to be extensive and very clearly documented on every call.
Then, there will have to be a comprehensive and closely monitored quality-control element to aggressively prevent and eliminate policy fallouts and detect and manage negative trends. This is not necessarily because the paramedics will make mistakes, but because patients will complain.
I guarantee an intoxicated person who wants to go to the hospital will be taken to a sobering center and a complaint — or lawsuit — will be filed for which the paramedic will be left holding the bag when EMSA gets involved.
Lastly, LAFD needs to be prepared for the unintended consequences. The residents of Skid Row have a better communication network than Facebook will ever imagined.
It will not be long before the word spreads about free rides to the sobering center. On hot days and cold nights the demand for the SOBER units will grow faster than the department's ability to keep up and that means more rescues out of service and on Skid Row.
If LAFD truly wants this to work and puts its best people on it and if they don't rush into as a public relations opportunity, the SOBER program is bound to succeed and be a model for agencies nationwide. I hope it works. 
Request product info from top EMS Community Paramedicine Software companies
Thank You!