Quick take: Tips for developing a community paramedicine program
Local partnerships and community support are the keys to success for Lake Havasu City (Ariz.) Fire Department's program focusing on reducing patient readmission rates
---
In the session "Program and Partnership Between the Hospital(s) and Fire Department," at Fire-Rescue Med in Henderson, Nev., Lake Havasu City (Ariz.) Fire Department Chief Dennis Mueller and Battalion Chief Jasen Stello presented the elements that are making their community paramedicine program successful.
A pilot program launched in July 2014 focuses specifically on reducing hospital readmission rates for patients with congestive heart failure and chronic obstructive pulmonary disease. Medics work directly with local hospital to identify patients, and provide home visits within 72 hours of them being discharged.
"The patients are finding that (home visits) extremely important and are very satisfied," Mueller said.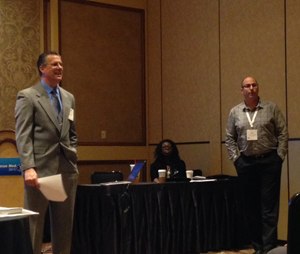 Out of 130 patients in the study, only seven were readmitted, and in five of the cases it wasn't preventable, he said.
Key takeaways to developing a successful community paramedicine program
Partnerships are essential
Both Mueller and Stello, along with Chief Nursing Officer Aphreikah DuHaney at Havasu Regional Medical Center, stressed the importance of reaching out to all the stakeholders.
This includes hospital leaders, nurses, city managers, city council members, primary care physicians, home health agencies, and other health care service providers in your community, to get "buy in" for the program. Without, a program is doomed to fail.
"You would be surprised how many people were not interested in our program and dealing with EMS services," Stello said. "The caveat to that is they didn't realize what we do."
Determine early on how to access patient medical records
This was initially a stumbling block for the Lake Havasu Fire Department. They got around the hurdle by starting with a secure data line, and faxing records to providers before they went out on house calls. Now, crews have worked with hospital staff to access and share records.
Figure out what your community needs and create a program around it
The Lake Havasu City Fire Department works specifically on reducing hospital readmission rates for patients with congestive heart failure and chronic obstructive pulmonary disease, but a successful program depends on the needs of the community. For instance, a department may find they have a high number of mental health calls and develop an alternative destination program, or realize there's a large diabetic population and many patients need help managing the disease.
Seek out paramedics to promote the program
Mueller and Stello stressed the importance of creating a task force to communicate with your organization, and paramedics in the field. When they first started, providers had limited interest.
"At first no one wanted to work on the unit. Now we have guys fighting to work on the unit," Stello said.
Mueller and Stello are open to input, giving field providers a seat at the table, and celebrating early wins to let everyone know what was working, and eventually the program became more popular.
Paramedics are also encouraged to focus on the social service aspect of health care. Often the only tools required on home visit are a stethoscope, a blood pressure cuff and a scale.
"There's nothing advanced about what we're doing in the home. It's more educational," Stello said. "We don't want them to do a 12-lead on every patient."
Time your program launch right
Lake Havasu was originally going to launch the program in October, but realized that there's a 30,000 population growth in the winter, which also leads to an increase in call volume. Instead, they changed the launch date to July to test it out when there was less strain on the system. By the time winter rolled around, the program was able to handle the increase.
Most memorable quotes
"What we do may not work in your community" — Mueller
"By reaching out the stakeholders you get an idea of what their needs are, and they actually get an idea of what you do." — Mueller
"Our providers immediately have red flags going up. Everybody has a shoebox of medications on the nightstand and when we go there, it never matches the paperwork." — Stello
"We provide the exact same information provided by nurses when discharged, but just in a different environment; at their kitchen table. And they are far more successful with maintaining their own health care." — Stello
Request product info from top EMS Community Paramedicine Software companies
Thank You!