Blauer's new boots are put to the test
Strong support, quality materials, comfort, performance and a fancy lacing system make these rugged, lightweight boots a great value
---
I'll be honest; I'm a boot snob.
I recently received a pair of Blauer's new Clash Boots to evaluate. I really did not think fancy lacing and rugged lightweight comfort could sway me from my go-to brand, but boy was I wrong.
My current boots have a fairly loose, flat heel. The first few minutes in the Clash brought immediately improved heel control and balance. By also being a little more on the balls of my feet, I discovered it was easier to keep my footing and maintain forward-momentum hiking.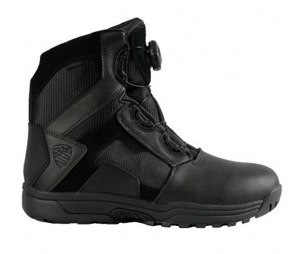 This became glaringly obvious when I went off-road in them. On a breaking shale hillside, I always felt in control. It was also noticeable coming down steep hills when the improved posture kept me more upright on a tight descent. They even have fence-climbing grooves in the toe.
Build
The construction materials are also exceptional. Full-grain leather provides real strength and protection, while the nylon panels offer ventilation.
The end result is a rugged, protective boot that is surprisingly light. An oil and slip-resistant rubber sole, with hybrid traction tread pattern, give you grip on and off the pavement in rain, snow or shine.
Blauer's waterproof membrane enhances waterproof leather, suede and nylon materials, blocking water from coming in, while still letting perspiration out.
I went outside after a summer pop-up rain shower and stood in a puddle about 1 to 1.5 inches deep to test the waterproofing around the main seams. As I was standing there waiting for telltale signs of moisture, my wife walked out onto the porch.
"What are you doing standing in a puddle?" she asked.
"I'm testing a pair of boots, honey," I replied. Without hesitation, the retort: "Well, you look pretty stupid." I suffered this embarrassment without one drop of water entering the boots.
Comfort
I really like the extra cushioning in the sole, particularly in the heel area. It's very shock absorbent, and is radiused to enhance driving comfort on a long shift.
I spent my first day in the Clash almost exclusively on my feet. The firm lacing system and bouncy heel led me to try a few low test PLF's off a wall. These boots are amazing jumpers. They would be great for a paratrooper or in a pararescue situation.
The flexible compression-molded EVA midsole and PU foam heel cushion also helped provide long-lasting impact absorption. The antibacterial and moisture-wicking lining kept them comfortable and dry.
I was also surprised that absolutely no break-in period was required. I had brought a back-up pair in case the break-in got rough, but I never needed them. The Clash was comfortable from the start to finish of a very long day.
Easy on, easy off
The BOA lacing system is astonishing, and my favorite feature of the boot.
For those that have not seen it yet, it combines the speed of a zipper with the support of a lace. It's quickly becoming popular in sports footwear, and ski boot companies even use it.
BOA provides you a quick in-and-out of the boot, and is engineered for comfort and performance. The system has a braided stainless steel cable for long-lasting durability.
I quickly grew to love the BOA system. Twist and pull, and off the boots come. A quick twist or two, and you are tightly laced for maximum ankle support.
The other thing I like it the flexibility where you need it. The lacing gaps are strategically placed so that some flexibility, like foot extension, is useful. I just can't get over how cleverly this boot combines rigid ankle and forefoot support with a surprising range of motion.
Blauer makes the Clash in a variety of styles. They have both 6- and 8-inch-tall versions and waterproof, non-waterproof and insulated models. Whether you work in the desert or the mountains, you can find a model suited to your specifics needs. Prices range from about $130 to $170.