Texas medics get lessons thanks to advanced training manikin
The anatomically correct iStan breathes and sweats, and he can bleed from five areas
---
By Jan Jarvis
The Star-Telegram
IRVING, Texas — The patient's eyes blinked, his legs trembled and his toenails turned blue as he lay on a gurney inside an ambulance.
Then he flat-lined.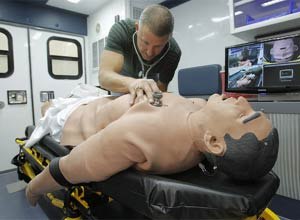 "It breaks my heart," said Ronnie Ikeler, EMS specialist for HCA North Texas. "His battery went dead."
But the patient known as iStan was revived with the help of a recharged battery. The 120-pound medical manikin, which is part of a new ambulance simulator, is the latest technology that allows paramedics to practice responding to real-life trauma — everything from a cardiac arrest to an amputation.
"He's the most technically advanced training equipment out there," Ikeler said. "You can so anything with this manikin that you can do on a real patient."
The anatomically correct iStan breathes and sweats, and he can bleed from five areas.
"He shares bodily fluids with you," Ikeler said. "He has ducts by his eyes, his mouth and other places."
He can also talk or shout, depending on the situation. His eyes respond to light and his heart races. Paramedics can check everything from iStan's pulse to his bowel sounds. They can also use a defibrillator to get his heart beating or stick a needle in his chest when a lung collapses.
Inside the ambulance simulator, cameras record what happens and then display the images so other students can view the action and learn about proper responses.
Ikeler said he can put the paramedic's response on a CD so the student can see what he did right and learn from what he did wrong.
"I'd rather someone mess up on this guy than someone else," he said. "With this we're going to save lives."
More sophisticated
Medical manikins have come a long way since the 1960s, when Resusci Anne was introduced as a teaching tool for cardiopulmonary resuscitation.
In the 1980s, paramedics had manikins to practice on, but they consisted of a head and a torso, Ikeler said.
"Back then it was more about pretending," he said. "Now we're actually doing the procedures."
At the University of Texas at Arlington's Smart Hospital, 32 patient simulators allow nursing students to practice their clinical skills.
Among the "family" of simulators is an 8-pound SimBaby that turns blue when the oxygen supply is interrupted, a female manikin that gives birth and SimMan 3G, which can bleed from wounds.
Such simulators can be programmed to portray any kind of situation that might come up, said Carolyn Cason, associate dean of nursing research for UT-Arlington.
"That enhances patient safety because we're not having to use patients to learn on," she said. "We can also standardize the process so everyone gets the same opportunity to learn."
But inserting an IV into a manikin that talks back can be unsettling.
"The first time students encounter a man blinking and talking it's a little off-putting, but they get over that quickly," Cason said. "We want the students to treat the manikin just like a patient."
'Pretty realistic'
One of the advantages of iStan is that he's wireless and portable so he can be placed in a field or a car to mimic an accident.
For now, the ambulance simulator and iStan are being used to train workers at all 12 HCA hospitals. But it will also be loaned to MedStar Emergency Medical Services and the nursing program at Tarrant County College.
IStan was initially designed for the military and used to train paramedics for the battlefield. Today 738 iStans are in use worldwide, according to Medical Education Technologies.
The manikin costs about $99,000.
Ikeler predicts that iStan, who was modeled on a real person, will get plenty of use.
"I don't know who his features are modeled after, but he's pretty realistic," Ikeler said. "Even his skin feels almost real and cold."
Republished with permission from the Star-Telegram

Request product info from top EMT Books companies
Thank You!