Book Excerpt: Paramedic of the Heart
Autobiography from EMS Chief Don Lundy on his 40-year career from dispatcher to paramedic, and eventually to chief of the Charleston County (S.C.) EMS
---
Editor's Note: "Paramedic of the Heart: True Stories of Lives Changed" is a self-published book from Chief Don Lundy and chronicles his 40+ year career in EMS. In this excerpt, Lundy the immediate past-president of NAEMT, shares a middle of the night patient chest-pain patient encounter and the challenges of fatigue for EMS providers. The publication of "Paramedic of the Heart," because of some comments about four employees, has triggered a human resources investigation that has resulted in Lundy being placed on leave.
By Don Lundy
Although my partner was not a firefighter, nor did he get any better sleep than most of us, on that particular night, Tim was, in fact, VERY asleep – as I said, stage 4 REM sleep. That is a fancy way of saying that Tim had no idea where he was, who he was with, what he was doing or what planet he was on.
On a good way to enter into an emergent situation, but it is what it is.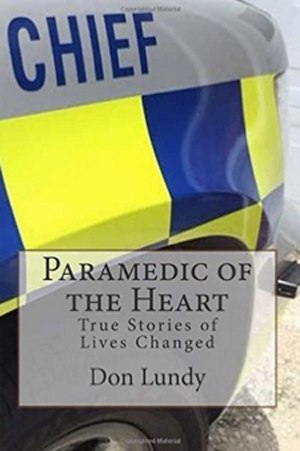 We worked on 410, which had a large commercial area, but had quite a few suburban areas, in the outskirts of our district. We could tell what area we were going to by which way we turned out of the station.
We were dispatched around 2 AM to a house that had those familiar burglar bars on every window, however, except for that, it looked pretty ordinary. I was the lead medic (Tim and I swapped every other call) and, as we pulled up to the yard, noted the fire engine already on scene. I grabbed my equipment and started towards the front door.
The process, normally, is that you see fire folks with your patient and you always assume that your partner is right behind you, bringing in the remainder of what may be needed.
The fire captain shrugged his shoulders. "I don't know," he said. "They don't speak English."
The male appeared to be in distress of some sort. I leaned down to hand calmly talked to him.
"Can you tell me what the problem is this morning?" He looked at me and moaned, rapidly breathing the oxygen the fire folks had started.
"He has been having chest pain for a couple of hours," the woman with him said. She had a very heavy Cuban accent but appeared to understand what I was asking.
The fire guys looked at me, surprised as they hadn't talked to her, but everyone appeared a little less panicked since we had someone who understood our language. They moved aside so I could get in and talk to her.
"Are you his wife?" I asked. She said "Si" and it seemed everything was getting better, communications-wise.
"Ask him where his pain is – point to it with his finger," I told her. She did and he pointed to just over his stomach. Chest pain is commonly used when the pain actually is somewhere south of that. Everyone saw where he was pointing and, although we weren't out of the forest yet, we calmed a bit more. Things seemed to be going well.
"Do you take any medications we need to know about?" I asked. This was a common question asked of all Patients. He nodded no. The wife confirmed he didn't.
"So, did the pain wake him up?" I asked his wife. "What happened after he told you about the pain?"
"Well," she said a matter of fact. "I gave him the nitroglycerin."
I stared at her.
"So, he takes nitro?" I asked, a little irritated but still engaged in finding what the problem was.
"Yes, he takes nitro," she said, a little irritated.
Ok, I thought. Maybe the wife and he didn't understand that was a medication. Whatever.
"What happened after that?" I asked.
"Well," the wife continued. "That didn't help so I gave him some donasol." It seemed like she slurred the name of what she had given him and none of us knew what that was. The Cuban accent didn't help. I didn't understand what donasol was and was going to ask when my partner, Tim, suddenly appeared from the outside, coming through the door and appearing like someone who had just been slapped by their girlfriend.
Remember, I had woken him up at 2 AM in stage 4 REM sleep. I wasn't sure he was awake yet. By his statement, I realized he was not.
"DOUGHNUT SALAD?" he asked, very loudly. "What the hell does that mean, you gave him a doughnut salad?"
Just by itself, it made no sense to anyone standing around the patient, but the line was so funny, all of us started to laugh.
That didn't sit well with the wife.
"No," the wife said, sounding rather flustered. "Donasol." She said it again and I couldn't understand.
"Do you mean Donatol?" I queried.
"Yes, Donatol" she said, exhausted at trying to make us understand what she was saying.
He takes Donatol?" I asked, also exhausted at the entire issue of questions. She shook her head.
OK, I thought. He takes two medicines and she clearly said he was not taking any medication. I felt a tap on my shoulder. It was Tim, still looking sleepy.
Everyone in the room realized that I was somewhat ticked.
"Is there any other medication he takes that we need to know about?" I asked one more time.
Before the wife could answer (she was already shaking her head no and I knew that was no longer a valid answer), I felt Tim tapping me on the shoulder. Still looking like a stunned half-asleep puppy, he looked straight at me. It looked like his eyes were open but no one was at the controls.
"You're asking it wrong," he said, matter of fact. He looked at the wife.
"Is there any other medication that he doesn't take that we don't need to know about?"
The question made no sense to me but the wife's face opened up as if communication had been made.
"YES," she announced. "There's a whole table full of medicine he doesn't take that you don't need to know about."
Tim looked at me and smiled. "I'll get the stretcher."
………
Published 2015
Self-published paperback and Kindle book through Createspace, a subsidiary of Amazon.com 
About the author
Don Lundy, B.S., CEMSO, NREMT-P, currently serves as EMS Chief for Charleston County EMS in South Carolina and is Immediate Past President of the National Association of EMTs. A paramedic since 1974, Don has worked primarily in 911 systems and helicopter operations. 
Don earned his Bachelor's degree in Health Care Administration from the Medical University of South Carolina and has been accredited as A Chief EMS Officer, by the Center for Public Safety Excellence, an accreditation held by less than 100 in the entire country. He lives in Charleston, SC with his wife, Barbara. They have one son, Robert, and 31 foster children.

Request product info from top EMT Books companies
Thank You!