Fla. agencies arming tactical paramedics after change in law
The Marjory Stoneman Douglas High School Public Safety Commission recommended arming SWAT medics after the 2018 Parkland shooting
---
Mark Puente
Tampa Bay Times, St. Petersburg, Fla.
TAMPA, Fla. — When most SWAT medics followed heavily-armed officers through doorways in Florida, the medical professionals carried empty holsters and triage supplies to help wounded cops.
Those holsters are no longer empty. The SWAT medics can now carry firearms to protect themselves and others in case a shooting erupts.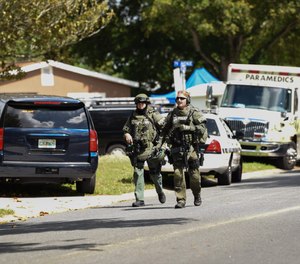 A law that took effect in July gave sheriffs and police chiefs authority to equip medical personnel with weapons when they respond with SWAT teams to high-risk encounters such as active shooters and hostage situations.
"When they go to a SWAT call out, their holsters are empty," Pinellas Sheriff Bob Gualtieri said about situations before the law change. "They couldn't protect or defend themselves."
Don't look for SWAT medics to carry guns at fires, car crashes or other day-to-day duties. The law precludes them from responding to routine medical calls with firearms.
The Marjory Stoneman Douglas High School Public Safety Commission recommended that SWAT medics carry weapons. Gov. Ron DeSantis signed Florida House Bill 487 into law in June. The law says tactical medical professionals, when working alongside a SWAT team, can carry firearms like other officers and have no duty to retreat when defending themselves or others from harm.
Prior to the new law, Gualtieri said a "hodge-podge" of policies existed across Florida as some departments ignored the law to allow medics to carry weapons. Law enforcement leaders prioritized safety, and Gualtieri said he, at times, considered ignoring the law.
"It's better to be alive than dead," he said.
Some departments found a way to equip medics under the old law. The Tampa Police Department and the Hillsborough County Sheriff's office put SWAT medics through a reserve officer or deputy training program, which allowed them to carry weapons, officials said.
Other agencies across the Tampa Bay area are working to equip medical personnel with weapons. For example, Clearwater has already trained seven of eight SWAT medics, and Largo and Pinellas park are training their medics.
The St. Petersburg Police Department, which says it has the largest SWAT team in Pinellas County, said its SWAT medics will not carry firearms.
The team has enough members to protect SWAT medics in any situation, pokeswoman Sandra Bentil said, adding: "Either way, we are prepared to protect them."
Coral Springs Police Chief Clyde Parry and Capt. Brad Mock, commander of the city's SWAT team, helped garner support among lawmakers for the legislation. Each stressed that officers are facing increased dangers with criminals carrying more firepower and medics need protection inside "hot zones" when bullets fly.
Parry, Mock and Gualtieri, chair of the Marjory Stoneman Douglas High School Public Safety Commission, said departments typically go beyond the state requirements to make sure medics are qualified to carry weapons. The department trained its medics to be ready with firearms on July 1.
"They're not out looking for bad guys," Parry said about eight medics. "We're not willy nilly handing out weapons to anyone."
Unlike some law enforcement agencies, Gualtieri had to clear more hurdles to distribute weapons to SWAT medics.
Paramedics Plus, the parent company of Sunstar Paramedics, which provides ambulance services across much of Pinellas County, declined to let medics carry weapons — although they have worked and trained on the SWAT team for years.
Gualtieri said corporate leaders objected but later reached a compromise: Gualtieri will classify the 10 to 12 medics as part-time sheriff's employees when they're activated for SWAT calls or training.
During a Pinellas County Commission workshop on Thursday, he said the costs would be "nominal" to his budget and stressed it's more important to keep the medics safe.
Pinellas County attorneys are working to finalize an agreement, and commissioners said they would approve the measure.
In 2017, Pinellas County spent about $720,000 on ballistic vests and helmets for firefighters, paramedics and emergency medical technicians so they could respond sooner and get closer to shooting scenes.
———
©2020 the Tampa Bay Times (St. Petersburg, Fla.)
McClatchy-Tribune News Service