OMNA launches surfboard leash with built-in tourniquet
The Tourniquet Leash can be used in the event of a shark attack or other life-threatening bleeding
---
OMNA recently launched their Tourniquet Leash, a surf leash that doubles as tourniquet in the event of a shark attack or other life-threatening bleeding.
The tourniquet is integrated into the ankle strap of the surf leash and, when needed, can be tightened and secured into place.
For other sports and activities, OMNA introduced the Amphibious Tourniquet, which can be worn on the body, equipment or velcroed in place. The tourniquet's construction makes it well-suited to tactical teams, beach/surf rescue and lifeguards.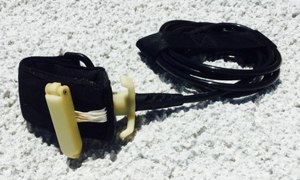 The tourniquets prices range from $34.99 to $49.99 and are available in different lengths and thicknesses.
For more information about OMNA and its products follow the link here and sign up to get an email when they officially launch.

Request product info from top EMS Bleeding Control companies
Thank You!