Lessons learned in Pa. active shooter analysis
Tragedies like West Nickel Mines school shooting have led to new EMS and police response tactics for active shooter incidents
---
By Nicole Brambila , Ford Turner, and Mike Urban
Reading Eagle
READING, Pa. — Active shooters in Pennsylvania over the past decade have killed and wounded 60 people - the third highest casualty count in the U.S. - a Reading Eagle analysis of FBI data has found.
While active-shooter incidents are rare, the number nationwide has increased sharply since 2000, when the Federal Bureau of Investigation identified just one case.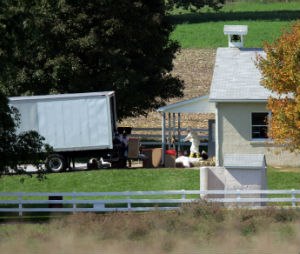 Before 2006, the U.S. averaged about six active-shooter events a year. Since then, the average has been 16.
In 2014, which fell outside the study parameters, there were 14 active-shooter incidents.
"Are they on the rise? Our study says, yes they are," said FBI Special Agent Katherine Schweit, who wrote the report.
The rise and fall in cases coincides with the nation's unemployment rate, which peaked at 9.6 percent in 2010, the same year the number of active-shooter incidents hit a 15-year high of 26. Though an economic connection may be intuitive because financial and relationship failures often trigger these kinds of attacks, it has been little studied.
The FBI report released in September tracked shootings from 2000 to 2013, aiming to provide data that law enforcement agencies can use to better prepare for and respond to active shooters.
Pennsylvania has averaged about one active-shooter incident a year since 2003.
The issue has come to the forefront with manhunts from Pennsylvania - in the Poconos and Montgomery County - to Paris with the Jan. 7 attack on the satirical magazine Charlie Hebdo.
Pennsylvania authorities in both cases last year issued shelter-in-place orders to protect the public while law enforcement searched for cop-killer suspect Eric Frein and then Bradley Stone, who killed six people in December. The FBI, however, does not consider either event an active shooter.
The bureau report does not identify any active-shooter incidents in Berks County. But that doesn't mean Berks law enforcement hasn't had its scares.
On Feb. 15, 2005, an 18-year-old Oley Valley High School student donned a gorilla mask and climbed onto the school's roof as a senior prank. The stunt did not produce the laughs the student intended, though. Instead it prompted a major police response that included the FBI, a state police helicopter and a Reading police bomb squad.
Officials at the time said the dramatic response was triggered by fears of a Columbine-like massacre.
Richard Karstien, assistant team leader for Berks County Emergency Response Team, said active shooters are a growing public threat for which law enforcement must be prepared and equipped to respond.
"If you're in a municipality and you think it's not going to happen here, you're totally wrong," said Karstien, who recently held active-shooter drills for several Berks police departments. "It's not a question of if, it's when."
Modern-day boogeyman
Pennsylvania has had 10 active-shooter incidents - among the highest in the nation - according to FBI data. Only California and Florida have had more cases, 19 and 12, respectively.
Texas, with a population more than twice that of the commonwealth, has had fewer than half of the active shooters Pennsylvania has had.
No one could explain why Pennsylvania has had more.
"I don't have a good guess," said Upper Merion Township police Chief Tom Nolan, who headed his county's tactical response to the Stone shootings.
But Nolan said that even if he knew the cause of Pennsylvania's disproportionate number of active shooters, it would not change how he does his job.
More than 1,000 men, women and children have been wounded and killed in the U.S. by active shooters since 2000. The headlines are eerily familiar, with a number of the killing sprees - Sandy Hook, Virginia Tech University, and Fort Hood - having become etched in the lexicon and seared into the American psyche.
The active shooter has been called the modern-day boogeyman.
Coined after the 1999 high school massacre in Columbine, Colo., active shooter refers to someone actively killing or attempting to kill people in a confined and populated area.
The designation does not include domestic killings, such as the Stone slayings in December that rocked the region as SWAT teams searched for the former Marine who brutally killed his ex-wife and five of her relatives. Nor does the definition include gang violence or the Frein manhunt that gripped the state and the nation in the fall.
The last active-shooter incident in Pennsylvania occurred in July, when Richard Plotts fatally shot a caseworker at Mercy Fitzgerald Hospital in Darby, Delaware County. A psychiatrist treating Plotts pulled out his own gun and exchanged gunfire with him. Plotts was later subdued by hospital staff and arrested, according to media reports.
More than half of the active-shooter events in Pennsylvania have occurred in Philadelphia, Delaware and Allegheny counties, according to data provided by Texas State University researchers who have been studying its prevalence since 2010.
"Luckily they are rare events, but they are devastating when they occur," said Thomas Bowers, a Penn State Harrisburg psychology professor who has studied mass shootings.
"If we understood them more," he said, "we could provide better mental health care."
Tragic lessons
Columbine changed everything.
Before Eric Harris and Dylan Klebold murdered 12 students and a teacher in Littleton, Colo., standard operating procedure called for officers to set up a perimeter and wait for specially trained teams to respond.
Today, active-shooter training calls for officers to rush toward the gunfire - stepping over victims' bodies if necessary - to stop the gunman.
Training for an event law enforcement will not routinely encounter is critical, Montgomery County District Attorney Risa Vetri Ferman said.
"You're preparing for something you don't get to practice," Ferman said.
The state's Bureau of Emergency and Special Operations, which includes the Special Emergency Response Team, has conducted active-shooter training since Columbine, said state police Trooper Adam Reed, noting he was familiar with the FBI report.
More than 3,000 people have been trained through those efforts, Reed said. SERT teams also have trained campus and municipal police departments.
The state police handled the Frein search and the 2006 hostage situation at the West Nickel Mines Amish schoolhouse in Lancaster County, which resulted in the murders of five schoolgirls, the state's deadliest active-shooter incident since 2000.
The West Nickel Mines tragedy also yielded lessons.
Ephrata police Chief William Harvey - who chairs a subcommittee of the South Central Task Force that includes Lancaster, Lebanon and six other counties - said West Nickel Mines demonstrated the need to learn and develop breaching techniques and strategies, because the shooter barricaded himself inside the schoolhouse before killing the girls.
The obvious concept, Harvey said, is to get in and eliminate the problem.
The next new thing in combating active shooters could just be outfitting emergency medical personnel with ballistic protective equipment.
Few do now. And none in Berks, largely because the cost is prohibitive, officials said.
"It is a luxury," said Russell Engle, EMS education director at Reading Health System. "Small townships and cities just can't afford a SWAT paramedic team."
But a small and growing number of agencies have begun equipping EMS personnel with bulletproof vests to run in alongside law enforcement responding to an active shooter. The medical workers would triage and remove victims.
Lafayette Ambulance & Rescue Squad in Montgomery County is one of just a handful of agencies in the state that has equipped each ambulance with protective ballistic gear. The nonprofit organization, which serves Upper Merion Township and the surrounding areas, went operational in May with tactical emergency casualty care.
"It's still a novel idea," said Capt. Chris McLeod of Lafayette Ambulance. "I guess only 10 percent are doing it in the country."
The equipment and specialty medical gear cost roughly $17,000, McLeod said.
The Federal Emergency Management Agency recommended protective vests and helmets for fire and EMS teams in the wake of recent cases involving mass casualties such as the Sandy Hook school shooting in Connecticut and the Boston Marathon bombing.
"There's a certain amount of people where we can really make a difference, if we can get in there to give these folks a chance to survive," McLeod said.
'I had to put an end to it'
The shooting usually ends quickly. Typically in five minutes or less.
Despite the overwhelming attention school shootings receive, they account for about one in four active-shooter cases in the nation, though these incidents involve some of the highest casualty numbers. The majority of shootings, or 45 percent, occur at businesses.
Fewer than 10 percent of the nation's active shooters choose a government building to fire off their rounds.
That was the case on Aug. 5, 2013, when Rockne Newell, upset that local officials had condemned his property, opened fire at a public meeting in Ross Township, Monroe County, killing three and injuring two, investigators said.
They said he first fired through the walls outside the meeting room and then entered, all the while firing until tackled by Bernie Kozen, executive director of the West End Open Space Commission, and another visitor.
"I had to put an end to it," Kozen said in a recent phone interview. "I did what anybody else would have done."
Kozen knows he was fortunate to walk away unharmed.
He's not alone.
In 21 of the 160 active-shooter cases identified by FBI, unarmed citizens safely restrained the gunman, ending the threat. Roughly half of those involved unarmed principals, teachers or other school staff.
Police don't often fare as well.
In the cases where officers engaged shooters, law enforcement suffered casualties nearly half the time. Since 2000, nine officers have been killed and 28 wounded.
"It's a very rare event, but it's one of those types of events that officers have to be mentally prepared for," said M. Hunter Martaindale, doctoral research assistant at Texas State University, who helped with the FBI study. "It's the most dangerous call an officer will have in their career, if they get that call."
According to criteria established for a 2014 FBI study, the 160 active-shooter situations across the nation during the 2000-2013 period included 10 in Pennsylvania.
Sources: FBI 2014 study of active-shooter incidents, Reading Eagle archives, news reports.
©2015 the Reading Eagle (Reading, Pa.)