Ky. ambulance providers say 'public assist' fees necessary
Jamie Hardin, AMR operations manager, estimates it takes crews between 20 minutes and an hour to respond to calls to help people after they fall
---
Renee Beasley Jones
Messenger-Inquirer, Owensboro, Ky.
A few years ago, residents were not charged if an ambulance crew came to their homes to help after they fell and couldn't get up.
But that hasn't been the case for more than a year.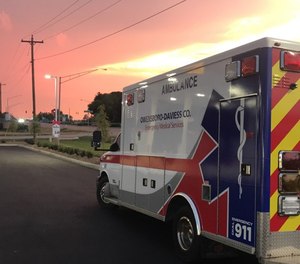 Today, if American Medical Response attends to a "public assist" call that does not require transportation to a medical facility, the resident is charged $100, said Jamie Hardin, operations manager.
Yellow Ambulance's last contract, which was in effect between July 2018 and July 2019, included that provision, said Hardin, who worked for the company 21 years before going to work for AMR. He couldn't recall exactly, but the ability to charge for public assist calls may have gone into effect prior to July 2018.
"Yellow (Ambulance) did it for free for years," Hardin said of public assist calls.
But there's an expense every time the company rolls a vehicle.
AMR started providing Daviess County ambulance service July 1.
Hardin wasn't sure how many "public assist" calls AMR has responded to since taking over the county's ambulance service this summer, but he recalled Yellow Ambulance averaged about 450 calls a month that did not require transportation to a medical facility.
"You're talking two to three full-time crews just to maintain that extra call volume," he said.
While insurance companies, Medicaid and Medicare pay for a ride to a medical facility, they do not pay for ambulance services that don't require transportation. Residents who request that type of assistance are expected to pay the $100 charge.
Hardin estimates it takes crews between 20 minutes and an hour to respond to calls to help people after they fall. For one thing, the crew always examines the caller to make sure they are OK before leaving.
Legally, Owensboro Fire Department can charge for public assist calls, but it chooses not to at this time, said Chief Steve Mitchell.
When the fire department responds, it sends a crew of four.
"They're on the scene about 30 minutes," Mitchell said. "We do it probably four or five times a week. That unit is out of service while they're doing that."
Daviess County Fire Department does not charge for public assist calls, said Chief Jeremy Smith. And he is not aware of any county volunteer fire departments that charge for the service.
DCFD will respond within five minutes if no volunteer station is able. Otherwise, DCFD stations respond in their immediate area only for public assist calls.
The county averages about 15 calls a month to help residents who have fallen, Smith said. In the immediate area of DCFD stations, he estimates crews respond to an average of seven calls per month.
———
©2019 the Messenger-Inquirer (Owensboro, Ky.)
McClatchy-Tribune News Service

Request product info from top EMS Billing Services companies
Thank You!