PRESS RELEASE
Ferno iN∫TRAXX™ Wins EMS World Top Innovation
---
Wilmington, OH, September 29, 2015 – Ferno, the global leader in emergency pre-hospital emergency care solutions, is pleased to announce it is a recipient of the 2015 EMS World Top Innovation Award for its iN∫TRAXX™ Integrated Ambulance Component System. Winners will be announced in the December 2015 edition of EMSWorld magazine.

The EMS World Top Innovation Award recognizes companies that have produced innovative, new products or made significant changes to an existing product. Ferno's new iN∫TRAXX™ features tracks mounted to ambulance walls with a series of modular, interchangeable storage and equipment components. The system increases safety by allowing medics to deliver the full range of patient care while seated and restrained. The system also saves agencies money with more efficient management of inventory and supplies in a customizable layout.

"The iN∫TRAXX™ is just the next step in Ferno's vision to improve the safety of the patient and medic, improve performance and increase operating efficiency by integrating technology with other proven systems into modern EMS," said Joe Bourgraf, President and CEO. "We have a history of innovation and are honored to be recognized for these contributions," he added.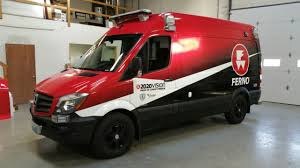 Ferno worked with NIOSH and combined crash safety insights with customer research and solutions Ferno already provides to the military to develop the iN∫TRAXX™ system which is fully compliant to the SAE J3043 recommended practice for ambulance equipment mount devices and systems.

This is the third EMS World Top Innovation Award in four years for Ferno. Last year, the iN∫X Integrated Patient Transport and Loading System™ received the same award. Ferno's PowerTraxx Powered Stair Chair™ earned the Top Innovation Award in 2012.

About Ferno-Washington
Ferno is the global leader in pre-hospital emergency care solutions serving emergency services, including EMS, fire rescue, mortuary, industrial safety and police. Ferno exports to more than 150 countries and has partnered with EMS, safety and regulatory agencies, and customers globally to create a new vision for delivery of emergency care. The company employs a dedicated team of customer-focused industry experts who are ready to share that vision with you.

Request more info from Ferno
Thank You!