PRESS RELEASE
Medix Specialty Vehicles announces North Eastern Rescue Vehicles as new ambulance dealer for New England
---
ELKHART, Indiana -- Medix Specialty Vehicles is proud to announce North Eastern Rescue Vehicles will now represent the Medix brand, as its newest dealer partner providing new ambulance sales and service throughout New England, including Maine, Vermont, New Hampshire, Massachusetts, Connecticut, and Rhode Island.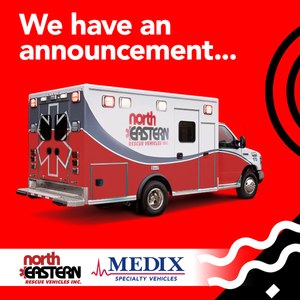 North Eastern Rescue Vehicles is one of the largest independent ambulance dealers in the country and has been serving the northeastern region for more than 20 years. In the late 1980s, Bob Reilly, President of North Eastern Rescue Vehicles, started selling vehicles part-time with his then-partner, Bob Barnes. At that time, Bob Reilly was a nationally registered paramedic working with/for Bob Barnes who owned Eastern Paramedics of Syracuse, NY. From these humble beginnings, in 2000 North Eastern Rescue Vehicles was founded and now represents many of the industry's premier ambulance manufacturers.
"We are thrilled to announce North Eastern Rescue Vehicles (NERV) as our newest dealer partner," says Greg Rusk, President, Medix Specialty Vehicles. "Their business is built through an unmatched commitment to service, and serving one customer at a time, which aligns with our mission and values. NERV constantly strives to find innovative solutions to the industry's evolving challenges and with their proven track record as an exceptional ambulance dealer for our partner brands Demers Ambulance, Braun Industries, and Crestline Coach, we are honored to welcome their outstanding team to represent the Medix brand throughout the New England territory. We are also pleased that Roberta & Lucien Rainville will be a key part of the NERV team in New England. We look forward to a long and successful partnership with North Eastern Rescue Vehicles."
Visit medixambulance.com to learn more about Medix Specialty Vehicles or to find a local dealer in your area.
About Medix Specialty Vehicles
Medix Specialty Vehicles, Inc. is an industry leader in the manufacturing of Type I, Type II, and Type III ambulances. Located in Elkhart, Indiana, Medix Specialty Vehicles, Inc. has produced one of the highest quality and best-valued units in the industry since 2001. You can learn more about Medix Specialty Vehicles on our website located at www.medixambulance.com or by contacting us at (866) 971-4915.
About Demers Braun Ambulance Manufacturer
Through its strong family of brands - Demers, Braun, Crestline, Medix - the Company operates six production/service sites across North America and employs over 1000 team members. The Company is the second-largest ambulance manufacturer in North America. Its offering of ambulance products range from the price-conscious value ambulance to the highly-customized specialty vehicle. To learn more about how Demers, Braun, Crestline, and Medix can help you save more lives, visit Demers-Ambulances.com, BraunAmbulances.com, CrestlineCoach.com, and MedixAmbulance.com

Request more info from Crestline Coach Ltd
Thank You!