Digital Ally's Fleet Recorders Selected as One of the Best New Products at the 2012 EMS Today Conference
---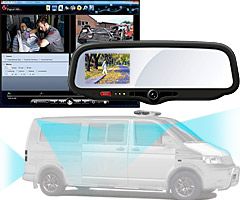 OVERLAND PARK, Kan. - Digital Ally, Inc., a leading provider of fleet video systems used by thousands of companies and government entities in all 50 states and around the world, has had its Video Event Data Recorder (VEDR) selected as one of the 50 best new EMS products of the year.
At the 2012 EMS Today Conference and Exhibition in Baltimore, a team of judges evaluated new products and innovations in EMS equipment, vehicles and programs based on their originality, functionality, ease of use and need in the EMS setting. Of all the products entered into the competition, the judges picked Digital Ally's VEDRs as one of the best, stating that it "really impressed" them.
Digital Ally's new Video Event Data Recorders have been rapidly gaining popularity in many types of fleets looking to gain benefits including liability protection through proof in vehicular accidents and against fraudulent claims; increased driver and passenger safety; enhanced training; improved blind spot visibility and compartment monitoring; and increased vehicle availability as well as reduced maintenance, insurance and operational costs from fewer accidents. Besides the VEDR's unique features, Digital Ally's systems additionally offer significant savings over competitors as they do not require an ongoing contract or additional equipment and software expenses.
Digital Ally's VEDRs record video, optional audio and detailed, customizable data. Recordings may be started manually or set to automatically start by reaching specific speeds, geographic areas and numerous other options, including violent maneuvers, shifting the vehicle into reverse, emergency lights, door sensors, etc. A predetermined amount of time prior to the moment a recording is triggered is also captured, which is referred to as "pre-event recording."
Digital Ally's VEDRs are integrated into a rear-view mirror so that they do not interfere with the driver's line of site or take up valuable space. Their design allows for easy installation into any type of vehicle, including those that did not previously include a rear-view mirror. Specialized one-way mirror glass allows an optional monitor to remain invisible while not in use.
About Digital Ally, Inc.
Digital Ally, Inc. designs, manufactures and sells cutting edge products for law enforcement, security, and related applications. For more information, contact Digital Ally at 800-440-4947, 913-814-7774 (international), sales@digitalallyinc.com or visit www.digitalallyinc.com.