Officer shot at Tenn. military reserve in active shooter incident
The extent of the officer's injuries has not been released
---
The Associated Press
CHATTANOOGA, Tenn. — At least two military facilities in Tennessee were attacked in shootings Thursday, including one at a Navy recruiting building, officials said.
Chattanooga Mayor Andy Berke said at a news conference that it was a "very terrible situation." He did not release any other details. Berke said there's "an officer down" at a military reserve center.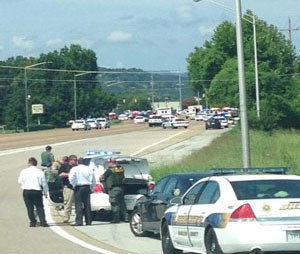 Active shooter situation is over. Details forthcoming #chanews

— Chattanooga Police (@ChattanoogaPD) July 16, 2015
Police have set up a command post near one of the sites. It was not immediately clear how many people may have been hurt, or how many shooters may have been involved. There were no reports of a suspect being apprehended.
The U.S. Navy said in a tweet that there was a shooting at a Navy recruiting building on Amnicola Highway inChattanooga.
Here's a picture of the recruiting center that was shot up. Friend on facebook took the pic pic.twitter.com/krOM7xwU6J

— Michael Ball (@Mike_Ball423) July 16, 2015
Law enforcement officials told recruiters at a facility 7 miles away on Old Lee Highway that they were also attacked by a shooter in a car. The shooter stopped in front of the recruiting facility, shot at the building and drove off, said Brian Lepley, a spokesman with the U.S. Army Recruiting Command in Fort Knox, Kentucky.
The Army recruiters at the facility told Lepley they were not hurt and had evacuated; Lepley said he had no information about recruiters for the other branches at the facility.
Marilyn Hutcheson, who works at Binswanger Glass just across the street from the U.S. Naval Reserve building on Amnicola Highway, said she heard a barrage of gunfire around 11 a.m.
"I couldn't even begin to tell you how many," she said. "It was rapid fire, like pow pow pow pow pow, so quickly. The next thing I knew, there were police cars coming from every direction."
She ran inside, where she remained locked down with other employees and a customer. The gunfire continued with occasional bursts she estimated for 20 minutes.
"We're apprehensive," Hutcheson said. "Not knowing what transpired, if it was a grievance or terroristic related, we just don't know."
They've seen dozens of emergency vehicles rush by: bomb teams, SWAT teams, and state, local and federal authorities.
"They're all here," she said. "You name it, it's out there."

Request product info from top Ambulances companies
Thank You!