PRESS RELEASE
ACETECH-powered Traumahawk Telematicst™ equipped AEV® ambulances now include vehicle-to-vehicle digital alerts
---
All ambulances with an ACETECHTM-powered Traumahawk Telematics subscription will now include HAAS Alert's Responder-to-VehicleTM (R2V) collision prevention safety service
AUSTIN, Texas: ACETECH™, an award-winning global manufacturer of Vehicle Intelligence Systems for emergency service fleets, has announced that AEV Traumahawk Telematics vehicle intelligence solution has added HAAS Alert's Safety Cloud® digital alerting capabilities via our ACETECH CONNECT. As a result, all AEV ambulances with an active ACETECH Vehicle Intelligence software subscription that are responding to emergencies or conducting high priority transports have the capability to send real-time safety alerts to nearby motorists' navigation apps and in-vehicle infotainment systems. Traumahawk Telematics is standard equipment on many of AEV's Type I, Type III and Medium-Duty ambulances and includes a one-year free subscription to ACETECH Vehicle Intelligence. With today's announcement, ACETECH's free one-year Vehicle Intelligence subscription will also include a full year of HAAS Alert's R2V safety service at no additional charge.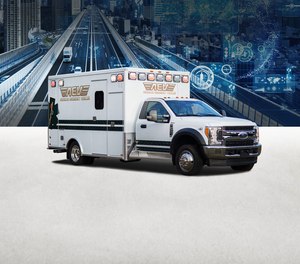 Thousands of collisions involving ambulances occur in the United States every year, and nearly half of them often result in additional injury to ambulance operators or patients being transported. In the last two years, a troubling spike in fatal collisions across the country has made providing emergency medical care and ambulatory service even more dangerous. These factors make it more vital than ever to ensure that every possible protection is available to emergency responders, and digital alerting offers a critical new tool for safety in a world with connected cars.
Tim Schroeder, Director of US Operations, ACETECH, said that this announcement highlights the flexibility of their telematics and cloud solutions. ''Integrating ACETECH CONNECT with HAAS Alert's Safety Cloud platform was important to deliver next-generation vehicle-to-vehicle safety to ACETECH customers. Working with partners to expand the solutions that we can bring to our customers is core to the ACETECH value proposition.''
Randy Barr, AEV's Director of Sales, said "AEV prides itself on delivering some of the industry's safest and most advanced ambulances to serve the EMS community. By adding digital alerting to Traumahawk Telematics via ACETECH CONNECT, we are able to provide an additional layer of protection for the ambulance crews and patients without any additional equipment."
About ACETECH
ACETECH™ is a global manufacturer of Vehicle Intelligence Systems for emergency service fleets. They provide cloud-based fleet management software, robust safety systems, cameras, eco-modules, and electronic controls. These solutions integrate seamlessly with emergency service vehicles to boost performance, improve safety and revolutionize the operation of the fleet. From singular solutions that can be tailored to specific needs, to an integrated solution that enables all aspects of emergency fleet management. www.acetech.com
About AEV
AEV is one of the best-selling ambulance brands in the U.S., building nearly one quarter of the ambulances on the market today.  AEV builds the industry's broadest range of ambulances, each one made with the hands-on American craftsmanship of a highly experienced and skilled team. AEV manufactures its full line of Type I, Type II, Type III and Medium-Duty ambulances in Jefferson, NC, at a bright, pristine factory set among the Blue Ridge Mountains. AEV's rigorous, LEAN manufacturing processes and engineering innovation achieve superior quality and value, while meeting the unique specifications of emergency departments around the country. Its nationwide network of dealers provides service and support to customers before and long after the sale. AEV is The American-Crafted Experience®. To learn more, visit aev.com. 
AEV is a brand of Halcore Group, Inc, which is a subsidiary of REV Group, a global leader in emergency vehicles and specialty vehicle brands.

Request more info from ACETECH
Thank You!