PRESS RELEASE
ArrestPAC Introduces the PitCard for Cardiac Arrest: Organizing the Chaos of Cardiac Arrest
---
Organize the chaos of cardiac arrest
Like a race team during a pit stop, an organized approach to the challenge with defined roles is key to a successful cardiac arrest scene. Using the pit crew approach and our PitCard for Cardiac Arrest, your team has the tool to ensure all interventions are performed on time and nothing is delayed or forgotten.
Managing a cardiac arrest can be very stressful, and science shows that refresher training every two years is not adequate to maintain the skills needed to care for the patient. The PitCard for Cardiac Arrest is a real-time reference card for both what the interventions are and when they should be done to best follow the guidelines in place at your service.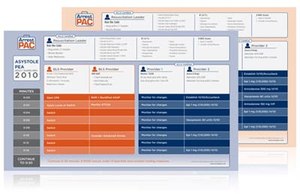 The PitCard for Cardiac Arrest establishes a team leader who has the global view and understanding of the ongoing event. It also defines the roles of the individual rescuers based on their level of training and capabilities. It defines when certain interventions are most optimal, such as delaying placement of an advanced airway, so that procedure does not distract the team from other time critical interventions like continued good CPR with rotation of providers.
When you start, everyone should know their roles and the duties expected of them. When you are done, the team can be sure they have provided the most complete and efficient care.
The PitCard for Cardiac Arrest comes in a standard protocol that closely follows the recommendations of the American Heart Association guidelines for management of sudden cardiac arrest. We would be happy to customize a PitCard for Cardiac Arrest to fit your guidelines. 
Download a PitCard for free. Or contact ArrestPAC to create a custom PitCard.