Ready to Go?
---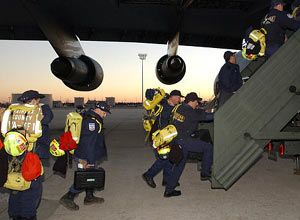 AP Photo/U.S. Air Force, Roland Balik
Members of the Fairfax County, Va., US&R team depart to Iran in 2003 in the wake of an earthquake.
In emergency response, it is all about being ready to go — just look at the US&R teams deployed to the aftermath of Hurricane Gustav. And for the rest of us? Well, we go to the call, we go to the patient or the fire, we go to the hospital and then we go back to the station and so on. But are you really ready to go at all?
I'm not just talking about taking a call but going out for some extended period of time. In previous columns, I've discussed the fact that only you can define what an extended period of time means. In my old fire department-based BLS service, we would think of a 45 minute from dispatch to home again call as a long run. But at the Air Force Base, we had a 30-minute run from anywhere on the base one way. It meant a two-hour call was more the norm, and after talking with folks in Alaska, it seems a quickie call to them would be if they're back in under five hours.
You have to first define what an extended period is. Then, secondly, you should work out what you as an individual need to "survive" for that duration.
You should be ready now to pack the kit. Searching on the Internet, it makes interesting reading to see how the folks who work in US&R and the National Disaster Medical System work this. In their cases, deployments are usually to places where essential services are at least compromised if not destroyed for a few weeks at a time. Their needs are very long term in that respect and very personal and diverse as they must be prepared for all sorts of weather and conditions.
Now I am not suggesting that every firefighter and EMT needs to have that type of a "Go Kit." That would be ridiculous. But you do need to determine your specific situation and needs. Also, members of these groups are very restricted in the weights that they can carry on to an aircraft when they fly to an incident for a deployment.
It means they need to pack their Go Kit in a very specific way in terms of both size and shape and know the weight of the kit. While most responders will not go to this extreme, some of you may need to consider deployment via aircraft, which is worth bearing in mind when building your Go Kit.

You may even have a few Go Kits packed in different configurations based on your needs, which is a good idea. In addition, these kits also come in very handy if you find yourself stuck in a blizzard or thunderstorm, or a natural disaster where you may be on your own for a period. In fact, look at just about any government web site on emergency preparedness such as Ready.gov and you will find all sorts of suggestions for personal and family emergency kits so that you can ride out these kinds of events.
When it comes to your Go Kit, the bag itself should be a waterproof duffle bag of some type and packed and stored where it is ready to go on a moments notice. This may be your car trunk, your house or your locker in the station — wherever you feel you may be able to access it quickly.
Use a bag that fits what you need and leaves a bit of room for expansion. But make sure it's not significantly bigger as it will be too heavy and you'll only end up not even using it.
So what exactly goes in a Personal Deployment Bag/Go Kit? Again, it's a very personal list, but here is some food for thought on what it can contain:
Personal medication (original containers if possible)
Toothbrush/toothpaste
Body soap/shampoo
Deodorant
Sun screen
Insect repellent
Lip balm
Anti-bacterial hand cleaner
Towel and washrag
Shaving kit
Comb/brush
Over the counter pain medication
Antacid tablets
Extra eyeglasses
Sunglasses (prescription if needed)
All-in-one tool
Flashlight(s)
Spare batteries as required
Utility knife
Electrical tape
Duct tape
A pad of paper, pens, pencils
Mess kit with utensils and a canteen
Spare watch
A change of clothing
Work gloves (lightweight/cool)
Wide-brim hat, cap, or visor
Safety type reflective vest
Power bars, trail mix
High protein drinks, powdered electrolyte replacement drinks
Bottled water
Again the list is yours — not mine, not Joe's from the other shift, but yours. Take into account all the factors in your area such as weather, and then just do it. As Mel Brooks said, "Hope for the best. Expect the worst. Life is a play. We're unrehearsed."

Request product info from top Ambulance Disposable Supplies companies
Thank You!