Top 10 EMS products of 2012
Over the past 12 months, several new devices have hit the market that could be a mainstay for providers in the years to come
---
There were some very important new EMS products introduced in 2012. Several of these required many years to develop while others were tweaks on existing successful technology.
Here's 10 new devices that caught my eye in the past 12 months:
1. The Airtraq Avant is a new version of the Airtraq. Its strength is a much lower cost with no expensive capital equipment to buy. It permits an optically guided and confirmed endotracheal intubation.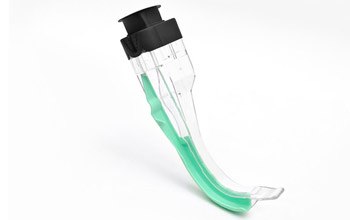 Photo courtesy Airtraq Avant
2. The new i-gel O2 Resus Pack from Intersurgical puts the everything you need right at your fingertips in one convenient kit: The heart of the pack is the i-gel supraglottic airway, now with both an oxygen port and a suction port. The oxygen port is for continuous oxygen insufflation during CPR.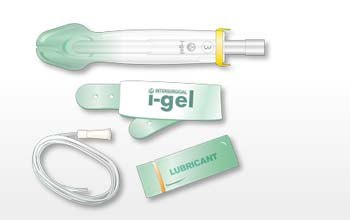 Photo courtesy Intersurgical
3. The C-MAC PM uses the famed Storz handles and blades with a new 2.4" compact color monitor mounted right on the grip. As soon as you touch it you know you're holding a quality-built instrument. It provides an exceptional image of the posterior pharynx and glottis, even in bright sunlight.
A nice feature of the system is the wide variety of available blades. They even have a special blade for the difficult airway. For EMS providers, this means that one laryngoscope system can meet regulatory requirements. The entire unit is clearly built for the rigors of EMS.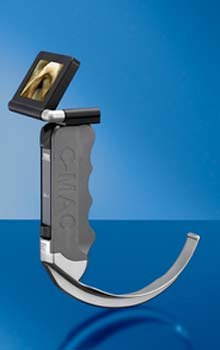 Photo courtesy C-MAC PM 
4. The Rescuer Emergency CPAP from BLS Systems offers a combination of features we have not seen before. It is completely disposable and easy to use. Oxygen is supplied by a standard oxygen flowmeter.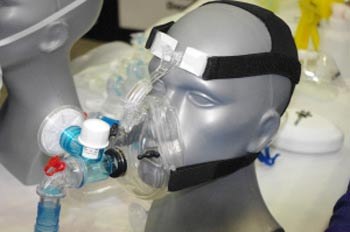 Photo courtesy Rescuer Emergency CPAP
The Rescuer has a tubular oxygen reservoir with an anti-asphyxiation valve. This enables it to deliver acceptable FIO2 at relatively low flow rates. The Rescuer can produce 15cm of CPAP pressure at 10LPM flow. The only other disposable device with a reservoir is the Smith Oxy-PEEP.
It has both inhalation and, more importantly, an exhalation filter. This reduces the risk of transmitting airborne pathogens in a confined-space EMS environment. The adjustable PEEP valve is convenient and quickly adjusted to meet patient requirements.
Last, it has a medication port built in. The swivel allows for some patient movement and the mask and strap system are available in two different configurations.
5. Ferno introduced their new EZ Glide with PowerMaxx this year. Most EMS providers are familiar with stair chairs that have tank-like treads for descending stairs. The Ferno PowerMaxx takes it to the next level with a battery-powered electric motor that drives the treads. It can easily power a patient up or down stairs.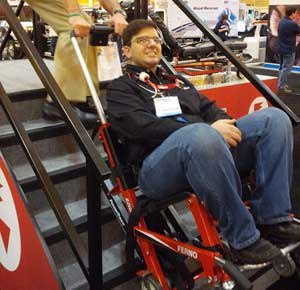 Photo EMS1
The motor and direct drive transmission even acts like a break when going down stairs for a carefully controlled descent. When you pause, an electronic break holds the chair in place. The motor has enough power to handle up to a 500-pound patient.
6. ZOLL Medical introduced their long-awaited new multi-parameter monitor and defibrillator, the Propaq MD. It combines the proven features of Propaq monitors with the capabilities of ZOLL defibrillation and non-invasive pacing technologies.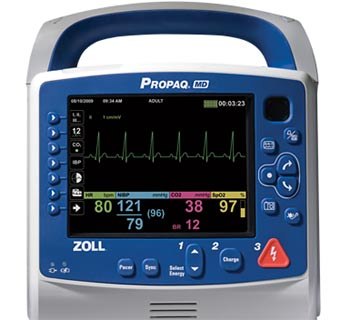 Photo courtesy ZOLL
It can defibrillate, cardiovert, or pace. It offers 12-lead ECG, and has maybe the best non-invasive blood pressure in the world. It also has Pulse Oximetry, capnography and even CO monitoring built in. It can also monitor multiple invasive pressures and temperatures at the same time.
The Zoll Propaq MD is amazingly small and lightweight. It replaces all of your monitoring devices, while also replacing a full-featured defibrillator at the same time. It does all this weighing only 10 pounds. That will make it a surefire winner for every aeromedical and critical care transport program.
7. Laerdal Medical launched the new SimPad. The SimPad has an instantly familiar feel and comfortable user interface. It's about the same size as my wife's Kindle Fire, with a beautiful 5.7""color touch screen and elegantly rounded corners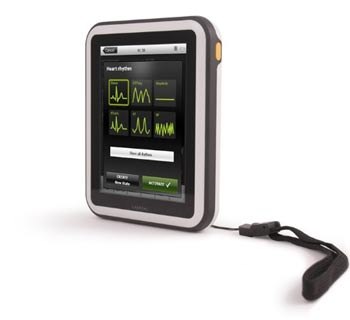 Photo courtesy Laerdal Medical
SimPad is compatible with the VitalSim platform, so training programs with a variety of existing Laerdal equipment can use it. It will empower EMS educators both creatively and expressively. It helps students learn core EMS skills in a fun and exciting new way.
For instructors, it offers a wealth of potential applications on a completely mobile device. SimPad provides one touch access to a comprehensive library of physiological data including vital signs, ECG recordings and arrhythmias, even organ and patient sounds.
8. The Philips FR3 is a new professional-grade AED. It is the smallest and lightest (3.5lbs) rock-solid AED I have ever seen. That makes the FR3 easier to carry and integrate with other rescue equipment.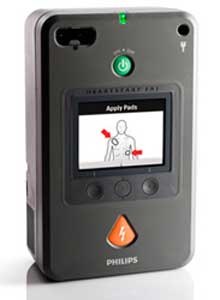 Photo courtesy Philips
The bright, high-resolution color LCD helps make the FR3 easier to use in a noisy environment. It also performs automated self-tests with both visual and audible alerts.
It is IP55 rated for full protection from dust or jetted water. That gives you plenty of confidence that the FR3 will withstand a demanding work environment. I really liked the rugged feel of it. It seems nearly bulletproof, it's easy to use, and it is a whole lot less to carry.
9.  The EZLift Backboard is a rugged spine board that makes lifting safer and easier. The combination of FRP material and innovative design creates the strongest backboard I've ever seen.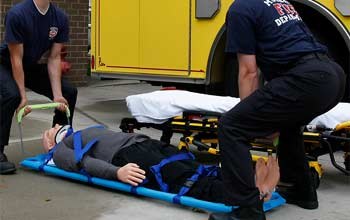 Photo courtesy EZLift
The big advantage of the EZLift is the retractable end handles. They have the potential to reduce many common back injuries.
Lifting a backboard off the ground is one of the most dangerous lifts we do. It means reaching all the way to ground level, which exposes the low back to injury.
10. When I first saw the Slishman Traction Splint, I thought it was another copy of the "tent-pole" type compact splint. It is a whole lot more, and the first new traction splint design I've seen in years.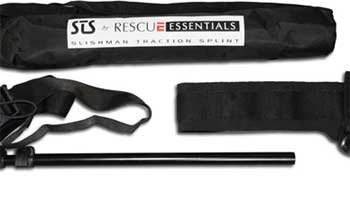 Photo courtesy Slishman
Inside the carbon fiber pole is a leveraged traction mechanism that is very easy to use. It provides dynamic variable traction with a simple hidden rope and pulley system. The Slishman also has a real clever ankle hitch and is adaptable to either adults or children.
These are but a few of the many innovative new EMS products introduced in 2012. I am betting you will wind up using at least one of them. Several appear destined to become market leaders.

Request product info from top AEDs companies
Thank You!