Drones arrive 7 minutes before EMS crews in policy-changing trial
A Canadian cellular-connected drone trial resulted in a deployment policy change after the study showed significant time saved when using drones to transport AEDs
---
By EMS1 News Staff
ONTARIO, Canada — After a trial conducted showed that significant time was saved by utilizing drones to dispatch AEDs to cardiac arrest events, a county in a Canadian province is preparing drone deployment strategies.
The trial was conducted with several technology partners, including unmanned aerial vehicles (UAV) supplied by InDro Robotics; Cradlepoint, which provided its NetCloud Service and on-board routers for LTE connectivity; and Ericsson, which offers 4G LTE equipment enabled with carrier aggregation.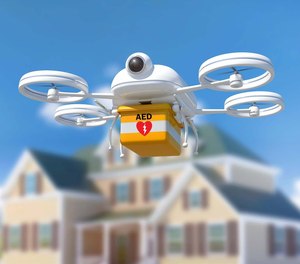 The County of Renfrew Paramedic Service participated in the trial, flying LTE-connected drones carrying AEDs to locations within a 10-mile radius. The results of the trial found that drones arrived seven minutes, on average, before emergency vehicles arrived on scene. Those minutes translated into additional time to save the patient, according to researchers.
"Given the large area and varied terrain that the county encompasses, it is often difficult to get paramedics to patients in a timely fashion, so we have taken a layered approach to the response," County of Renfrew Paramedic Chief Michael Nolan said. "What's particularly innovative and exciting about this trial is the potential of drone-delivered AEDs to have a transformative impact on emergency care for patients suffering cardiac arrest, especially those in remote private, residential or rural settings, where getting emergency treatment rapidly is the difference between life and death."
Previous drone trials relied on non-cellular technology, which limited them to trips shorter than five miles, but by utilizing the LTE cellular network already in place, the most recent trial allows the County of Renfrew to use drones to reach patients up to 80 miles away, while also delivering images and videos to operators.
"I am very impressed with the results of these flights, advancing the science and operations, delivering life-saving tools such as a defibrillator by drone," Dr. Sheldon Cheskes of Sunnybrook Health Sciences Centre said.

Request product info from top AEDs companies
Thank You!