NY emergency squad at risk of shutting down
The squad is now at a critical point and has had to withdraw money from its savings account to keep operating
---
Lohr Mckinstry
Press-Republican, Plattsburgh, N.Y.
ELIZABETHTOWN, NY — Elizabethtown-Lewis Emergency Squad needs more money or it can't survive, officials say.
Emergency Squad Treasurer Lawrence Bashaw said funding from two of the towns the squad serves, Elizabethtown and Lewis, hasn't kept pace with their expenses.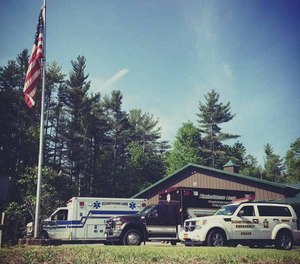 "We're constantly going through our reserve money," he said. "What the towns give us barely gets us through six months of the year."
USING SAVINGS
The squad's annual budget is about $200,000 a year, including municipal funding raised by taxes, community donations, fundraisers and grants.
Bashaw said that's not enough to replace rigs and equipment such as ambulances, defibrillators, an automatic external defibrillator used by first responders, medical bags, stair chairs and scoop stretchers.
"The medical equipment is essential and we cannot operate without it," Bashaw said.
The squad is now at a critical point, he said, and has had to withdraw money from its savings account to keep operating.
"Without the communities' help and support in order to obtain appropriate funding from the towns, the Emergency Squad will not be able to operate past 2020."
YEARLY INCREASES
The squad has asked for an increase of $6,000 from Elizabethtown and $5,000 from Lewis for 2020. It plans to ask for a even larger increase for 2021.
"We anticipate an increase (request) of approximately $25,000 in Lewis and $30,000 in Elizabethtown for 2021," Bashaw said.
"The goal is to continue our mission as in the past by asking the boards for increases on a yearly basis.
An adequate budget should allow us to keep requests between 3 and 5 percent (more) yearly in an attempt to keep up with our expenses and avoid any further financial issues in the future."
NEEDS AMBULANCE
The group currently gets $29,000 for operations and $5,000 for a capital fund from Lewis, and $35,000 for operations and $9,000 in capital fund money from Elizabethtown.
Monthly bills are $10,000 to $15,000 for building heating and maintenance, fuel, medical supplies and other costs.
Right now, the squad needs to replace the oldest of its two ambulances and has raised $125,000 of the $200,000 cost.
It has also applied for a Federal Emergency Management Agency grant for the rig.
"The box is rusting out," Bashaw said. "It's a 20-year-old vehicle."
1 YEAR GRANT ONLY
The squad has two full-time personnel, a critical-care advanced life support technician and an EMT, but that $70,000 in salaries and benefits is paid for by the Town of Westport in exchange for providing the squad's services there.
Essex County has a state grant for its new countywide medical services program that will pay their personnel costs for 2020, but that's just for one year, Bashaw said.
"In 2021, we will have to start paying the salary portion, and the county will pay the benefits," he said. "We'll pay $40,000 to $47,000 for salaries."
Bashaw said he's been going around talking to people in the community about the crisis.
He hopes for a big turnout at a public informational meeting set for 6 p.m. Tuesday, May 22, at the Lewis Congregational Church.
Another will be scheduled later for Elizabethtown.
———
©2019 the Press-Republican (Plattsburgh, N.Y.)
Distributed by Tribune Content Agency, LLC.
McClatchy-Tribune News Service