Jewish medics claim discrimination by Md. fire department
---
By Danny Jacobs
The Daily Record
PIKESVILLE, Md. — Three Orthodox Jewish medics have charged the Pikesville Volunteer Fire Company with religious discrimination, alleging they were barred from responding to calls unless they shaved their beards.
Matthias Goldstein, Brennan Gross and Avrohom Green have not responded to a call since January, when they were informed that their beards posed a safety concern, according to their charges filed with the U.S. Equal Employment Opportunity Commission.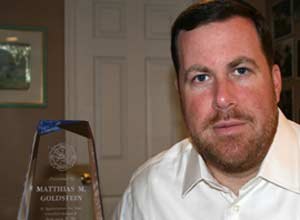 "They are dedicated and they really want to do the work," said Deborah A. Jeon, legal director for the American Civil Liberties Union of Maryland, which is representing the medics along with pro bono attorney Gil A. Abramson. "It's a shame that religious issues are getting in the way. "
The medics claim the fire company is retaliating for their membership in a largely Orthodox emergency response organization, but the fire company has said it is only enforcing a Baltimore County policy regarding facial hair that could interfere with firefighters' gear.
Goldstein and Gross both say they were told their beards would interfere with respiratory masks the company was planning to purchase for its medics. Jeon said the masks are typically worn by firefighters battling a blaze, not medics who purposely keep their distance from any fire to better help victims.
"It's inconsistent with the rest of equipment and training [medics] are required to undertake," she said.
Goldstein and Gross claim the company is retaliating for their volunteering with Hatzalah, an emergency response organization mostly made up of Orthodox Jews that serves Northwest Baltimore.
Abramson, a principal at Hogan & Hartson LLP in Baltimore, said Pikesville firefighters were "put off" by Hatzalah arriving first to several incidents.
"That's what kind of is sad about the situation," Jeon said. "The Pikesville fire company feels it's in kind of a turf struggle with Hatzalah. "
The complaint to the EEOC claims religious discrimination in violation of Title VII of the Civil Rights Act.
Goldstein, chief of preventive medicine and wellness at Good Samaritan Hospital, has been a medic with the company since 1993; Gross was hired last November; and Green was denied acceptance as a medic in January because of his beard.
Lee H. Sachs, a lawyer and first vice president of the company, cited the Baltimore County Fire Department's standard operating procedure in a January letter responding to Green's inquiry about the no-beard policy. Regulations allow for mustaches and sideburns "only if they do not interfere with the proper seal of a breathing apparatus face piece," Sachs wrote.
"Our officers are mandated to enforce a policy that, if any member comes to the station prepared to ride, and has a violating beard, he is to be advised that he cannot ride," Sachs wrote.
Sachs could not immediately be reached for comment Tuesday afternoon.
Goldstein said his superiors refused to consider an alternative mask he researched. Other medics have been allowed to ride without masks since January, Goldstein and Gross both said.
Both Abramson and Jeon said they are hopeful an agreement can be reached with the company.
Copyright 2009 Dolan Media Newswires