Ambulance companies taking patients to court to collect money owed
Rescue 14 is taking an aggressive approach to getting money it is owed by filing theft complaints against patients who keep payments from their insurance company intended for the ambulance service
---
Renatta Signorini
Tribune-Review, Greensburg, Pa.
GREENSBURG, Pa. — Adamsburg's Rescue 14 EMS hauled a Hempfield woman to court this spring over outstanding charges for medical services.
Within minutes, another ambulance company wheeled her out of the Westmoreland County Courthouse on a stretcher.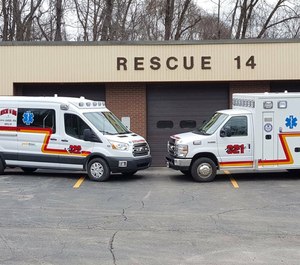 Ashley James, 36, appeared in compliance court May 21 after failing to make monthly payments on the $5,567 she allegedly owes Rescue 14. She is accused of keeping an insurance check meant to pay for care provided four times in 2016 by ambulance personnel.
She was on a plan to make monthly payments.
"I've tried to. They're extremely too high," James said.
Senior Judge Richard E. McCormick Jr. lowered James' monthly amount from $75 to $25. Prosecutors said they would dismiss a theft charge against James if she pays off the amount owed.
Then the hearing came to an abrupt halt.
Sheriff's deputies rushed to James as she collapsed. Her husband knelt by her side until Mutual Aid paramedics arrived, talking softly to her while dozens of other defendants sat in silence.
"Can we have EMS to the fourth-floor senior judge's courtroom," a deputy said into his radio. "We have somebody having seizures."
Paramedics whisked James away to a hospital.
Rescue 14 is taking an aggressive approach to getting money it is owed by filing theft complaints against patients who keep payments from their insurance company intended for the ambulance service.
It's been a problem for years, but operations manager Don Thoma decided to take criminal action after seeing another ambulance service in the region doing the same. He filed 12 cases in August, four in March and three in May.
The money missing in those cases adds up to $26,000, or 13% of the service's annual budget.
"When people see criminal charges, they want to get it paid," Thoma said. "That money belongs to us."
Collecting debts
Other ambulance services in Westmoreland County are keeping a close eye on the outcomes. So far, it's been mostly successful.
Charges were withdrawn against 12 defendants who paid $13,254. Three defendants have preliminary hearings set for July.
When someone with health care coverage is transported by ambulance, their insurance company is billed for the care. Some insurance companies send payment directly to the ambulance service.
But others, including Highmark, send the payment to the policyholder, local ambulance officials said. Then it is up to the policyholder to pay the ambulance service. Some people, instead, keep the money.
That can be a burden on the ambulance service.
"Every penny that we've billed to collect for our services is a huge thing to us," said Darrick Gerano, director of Murrysville Medic One and president of the Westmoreland EMS Council.
Highmark sends direct payments to health care providers with which it has a contractual relationship, said Bob Wanovich, vice president of provider contracting. For providers considered out-of-network, Highmark sends payment to the member, who is then responsible for paying the bill.
"We pay a provider directly when we have all the right protections in those contracts," Wanovich said.
Highmark expects members to hand over payments to the appropriate provider, when applicable, he said.
"The ambulance company should be paid," Wanovich said. "We support the ambulance company in that. People should pay their bill."
Ambulance services can file a civil action to recoup payment, but doing so is costly. There are additional fees and, even if a judge rules in their favor, it's not a guarantee that the money will be repaid.
As of April, less than 5% of people who have been court ordered to pay Penn Township Ambulance through a civil filing have forked over the money, said director Ed Grant.
"We went the civil route. We've been doing this now for about five years," Grant said. "It becomes very frustrating because, even with a judgment, it doesn't force you to make a payment."
Criminal vs. civil
A certified letter warning of possible criminal charges is sent by Rescue 14 two months after an insurance check for ambulance service is issued to a policyholder. If the bill isn't paid within 30 days, Thoma files a private criminal complaint, which must be approved by the District Attorney's Office.
The complaints charge defendants with misdemeanor or felony theft, depending on the amount owed.
Over the last four years, patients have kept $47,000 in insurance money sent by Highmark for Rescue 14 ambulance trips, Thoma said. One patient owes nearly $10,000 — about a month's worth of wages for Rescue 14 workers. Highmark sent the person about half of that money through insurance checks, he said.
"In our case, $10,000 is a lot of money," he said.
Grant is paying close attention to the outcomes of Thoma's cases. Last year, 18 to 20 people kept $12,000 in insurance payments that were owed to Penn Township Ambulance, which has an $800,000 budget. Filing civil actions for all of those cases would cost $3,000 in magistrate and other fees, Grant said.
"There's more money that we're putting out to try to recoup that money," he said. "These are people that are violating existing law."
A proposed bill in the state House of Representatives would add language to Pennsylvania's theft statute to make it clear that keeping an insurance payment meant for a health care provider is a crime. That bill has been referred to the Judiciary Committee.
"We're all rooting for it, of course," Gerano said. "It is really a crime."
The situation has been a statewide issue for decades, said Don DeReamus, legislative chair for the Ambulance Association of Pennsylvania.
"Any lost reimbursement, especially when it's paid to a beneficiary, it's just lost money for us," he said.
State legislators tried to fix the problem a few years ago by having ambulance services become in-network providers to insurance companies, but ambulance officials said they were at risk of losing money through lower rates paid by the insurers.
Grant said his company would stand to lose about $30,000 by becoming an in-network provider.
About 65% of ambulance services in the region are considered in-network providers with Highmark, Wanovich said. Some make business decisions to not sign that type of contract because it could affect income.
"They want to be able to charge for the service much higher than we're willing to pay," Wanovich said. "They don't want to sign a contract that limits that."
Highmark is willing to negotiate on such contracts with any type of health care provider, but they're not budging on the need for a formal agreement for direct payment.
"We're not going to change our stance that we need a contract," Wanovich said.
Pressing on
Rescue 14 collected more money in the last few months of 2018 through criminal charges than it had in the previous four years, Thoma said. He's learning the system along the way and plans to file more cases against new scofflaws.
"Now there's no reason that every ambulance service in the county can't do this," Thoma said.
Defendants in three outstanding cases, including James, owe the Adamsburg ambulance service $8,379. A bench warrant letter was sent to one defendant who didn't show up for a recent hearing. The third defendant's hearing was rescheduled.
Three people set for preliminary hearings in July owe $3,145 total.
A fourth unresolved case involving $1,150 is inactive because a West Virginia man has not claimed his summons, according to online court records.
"There's parts of me that I understand why they do it, and I'm empathetic to it," Grant said. "But still, it's a service we provided."
Renatta Signorini is a Tribune-Review staff writer. You can contact Renatta at 724-837-5374, [email protected] or via Twitter .
———
©2019 Tribune-Review (Greensburg, Pa.)
McClatchy-Tribune News Service