Veteran Philadelphia paramedic to be honored as EMS Provider of the Year
Paramedic Christian Apelt, a 15-year veteran of the PFD, has been teaching life-saving skills at the Fire Academy for the past seven years to firefighter recruits as well as fellow paramedics and EMTs
---
PHILADELPHIA — The Philadelphia Fire Department will recognize Paramedic Christian Apelt as the EMS Provider of the Year in a ceremony on Monday, May 20 at Fireman's Hall Museum.
Apelt, a 15-year veteran of the PFD, has been teaching life-saving skills at the Fire Academy for the past seven years to firefighter recruits as well as fellow paramedics and EMTs. Previously, he worked for many years at Medic 2, based at Kensington and Castor avenues. He said the award was "very unexpected."
The 46-year-old Philadelphia native was recently named a Top Mental Health First Aid Instructor by the National Council for Behavioral Health. Apelt has taught hundreds of PFD members about Mental Health First Aid, a five-step plan to identify, understand and respond to signs of mental health or substance use problems. Top instructors were selected based on the number of those trained, and Apelt educated the second-highest number of people in the nation in the Fire/EMS category.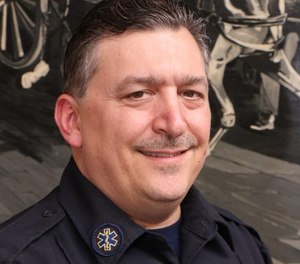 Paramedic Services Chief Beth Glynn nominated Apelt for the award based on his long career in public service, which includes time in the Navy. She praised his "dedication and compassion," calling him "an excellent leader."
Monday's ceremony comes during the 45th annual National EMS Week. The event will include the reading of a mayoral proclamation declaring May 19-25 to be EMS Week in Philadelphia.