'Stars of Life' honored in EMS
Program aims to publicly recognize and celebrate the achievements of responders
---
By Erin Hicks
EMS1 Staff
John Kelly was coming home from a vacation when disaster struck: the wheel came off his car and his vehicle rolled multiple times.
He was ejected out the sunroof, and his car rolled over his leg, causing multiple fractures in his right shin and leaving it severely severed. Kelly also suffered serious injuries to his pelvis, left femur, and left tibia/fibula.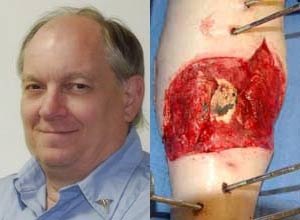 Though he doesn't have much memory from the December 2007 accident, the responders that treated him later told him he wasn't a very good patient.
"They said I was telling them what to do and how to do it. I was alert the whole time," he said.
Though the doctors recommended he get an amputation, Kelly refused and underwent 30 surgeries to rehabilitate his leg. He can walk now — he's confident he'll be able to run soon.
Kelly's story of courage, inspiration and achievement is just one of 77 being celebrated by The American Ambulance Association's Stars of Life.
The annual program aims to recognize and honor the dedication of ambulance service professionals around the nation.
Now in its 15th year, the program has built a strong alumni base, according to Janet Smith, of Janet Smith & Associates, press liaison for the program.
"To see the program grow and flourish, it's not only a great achievement for the American Ambulance Association, but these stars represent thousands of others who are doing the job," she said.
"It creates quite a community around Stars of Life.
2010 Star List

Eddie J Domingue IV.
Aimee Bell
Andrew Joseph
Joanne Smith
Dean Holt
Samantha Cobb
William Daley
Louis Abaunza
Jennifer Bogle
Mike Denman
Michael Devitte
Alex Esposito
Harold "Ben" Harris Jr.
Winston Jones
Jennifer La Rault
Patrick Leonardo
Sandy Logan
Michael Muela
Johnny Phillips
Gabrielle Pierre
Julie Ryan
Patricia Stolarz
Jon Webb
Kim Witcraft
Veronica Adcock
Erik Moreno
Tami McVey
Anthony Berk
Sabrina Joly
Shailagh Coffey
Sean O'Brien
Heather Ortins
Steven Ridgway
Joseph Baker
Anthony Bernato
Allison Chavero
Tammy Krenisky
Stephanee Corbet
Kristin Drake
Blake Vowel
Chad Mickelson
Ronald L. Sletten
Donna Batchelder
John Pierce

 

Steven Ridgway
Joseph Baker
Anthony Bernato
Allison Chavero
Tammy Krenisky
Stephanee Corbet
Kristin Drake
Blake Vowel
Chad Mickelson
Ronald L. Sletten
Donna Batchelder
John Pierce
Christopher Ryan
Timothy Gallagher
Mary Shields
Samuel Rosales
Erika Contreras
Vanessa Alcocer
Dan Degen
Dawn Place
Corey Aulbach
Charles Ham
Mark Rash
Don Robinson
Jonathan Wise
Mike Sherriff
Jimmy Aycox
Jonathan Brown
Danyel Sr. Fosdick
Jeremy Sr. Raymond
Larry Davis
Charles Michael Frazier
John Kelly
Diane Witteman
Trisha Cress
Terry Daniels
Joe Darmofal
Peter Nardell
Kimberly Polimeni
Audrey Soliz
Mark Bartholomew
Mark Wolf
Glenn Blank
Joel Denley
Toni Grimes

 
It's a morale builder internally within an organization."
Not only is the Stars of Life event important in recognizing individuals' hard work and "goodness," but according to Smith, it also has an important political effect.
A five-day event is being held in Washington, DC., next week to honor the 77 men and women named stars in the field of EMS this year.
Senators, Congressional representatives and the ambulance association will personally congratulate them for their dedication to service at the event.
Award winners — some of whom have never been to Washington, will also get to tour the monuments and capital building.
"It puts a face on the EMS industry and for the folks who are really our cream of the crop to connect with policy makers that affect every other EMT and paramedic in America," Smith said of the event.
Kelly said he was looking forward to the experience. "It'll be nice to meet people from other areas in different services and see how they do things,"  he said.
"It's always nice to meet people in your own field that have your same passion."
Passionate about his job as a paramedic for Nature Coast EMS in Lecanto, Fla., he is getting his life back on track after the accident.
He went back to teaching paramedic classes at a community college in Ocala, Fla., in October 2008, and returned to the field full-time last June.
In a strange way, Kelly said his accident made him a better responder.
"[As a patient], you get to look at things the way other people look at it. Seeing someone in a wheelchair…I know what that's like now," he said.
"My accident was an educational experience."