Md. volunteer EMT recalls almost not making it to school shooting
Lexington Park Volunteer Rescue Squad Deputy Chief Michael Cahall said he had decided to work from home that day, which meant he was able to rush to the scene
---
By EMS1 Staff
Lexington Park, Md.  — An EMT recalled saving the life of a school shooting victim after being able to rush to the scene because he decided to not go to his other job that day.
WUSA9 reported that Lexington Park Volunteer Rescue Squad Deputy Chief Michael Cahall was working from home the day of the high school shooting and was brushing his teeth when he got the call.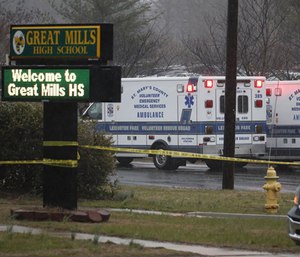 "Who knows why I didn't go into work," Chief Cahall said.
Cahall rushed to the scene and began treating Jaelynn Wiley, 16, who had been shot. He stabilized her until she was able to be transported to the hospital, and said he was able to be there because of "God's call."
"You sometimes wonder if you're supposed to be somewhere and I definitely felt that call," Cahall said.