Termination of resuscitation: When to say "when"
EMS systems must determine their plan for termination of resuscitation with a number of factors in mind, EMS World Expo session told
---
By Drew Johnson
EMS1 Editor
Knowing when to terminate resuscitation can be one of the most difficult parts of emergency medicine.
Shaun Fix, a paramedic with Boca Raton Fire Rescue who presented on termination of resuscitation at EMS World Expo in Las Vegas Thursday, said there's much involved in the process that medics may not see.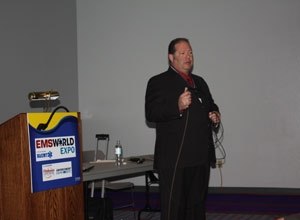 "There's a range of psycho-social and social aspects to this," he said. "Many people have never dealt with something like this before — including medics who've never lost someone in their personal life."
Fix talked about the "affective domain," which is the part of our personality that determines how we react emotionally to complex emotional issues like death, and determines our ability to feel another living thing's pain or joy.
"As medics move along in their careers, they develop prejudices about what cases aren't going to be successful," Fix said. Where a newbie might rush to treat a cardiac trauma with their full resuscitation protocol, a veteran will know that the survival rate for such an injury is abysmally low, and realize the futility of treatment after just a couple minutes.
Science tells us unintuitive things about which patients we need to work, Fix said, but more often than not (especially new) medics resuscitate with their heart, not with our mind.
And what the science has told the EMS community about the efficacy of resuscitation treatments has changed in recent years. Research has shown that continual compressions are necessary to maintain or restart circulations, Fix said. More emphasis has been placed on good perfusion while drugs have been deemphasized.
The bottom line, though, is that for some patients, resuscitation shouldn't be an option.
"We have to look at resuscitation in the here and now," Fix said. "For many people, the last beat of their heart should be just that. And for those of us who do termination, we have to have some input on when to let go."
An understanding of when to resuscitate, and when to let go, should be built on these principles:
Beneficence — providers must have patients' best interests in mind
Autonomy — patients have the right to refuse treatment
Proportionality — medical treatment is ethically mandatory only to the extent that it is likely to confer greater benefits than burdens upon patient
Medical futility — medics should avoid treatment that, with a reasonable degree of certainty, is seen to be without benefit to patient
Fix said EMS systems must determine their plan for termination of resuscitation with a number of factors in mind. They must decide whether they'll accept Living Wills or DNR directives, or both, when deciding to terminate.
Systems will vary on what criteria to use in terminating resuscitation, and all termination plans should be constructed with heavy input from the medical director and an attorney. Decisions to terminate will almost always be collaborative between a paramedic and a physician.
After the "D" word
Fix said that, after a patient has died, medics must be able to discuss what's happened in a frank and open manner with the patient's family. "You can't avoid the 'D' word," he said. "Don't say 'He's passed' or 'She's in a better place."
The script for telling the family that Fix uses goes something like this: "'I'm sorry, we've done everything we could. I talked to the doctor and he agrees the condition was so severe that we were unable to revive him. We tried everything we could and I need to let you know that he is dead. Again, I'm very sorry for your loss."
It's a difficult conversation, but medics don't do the family any favors by avoiding the harshness of the word "dead."
After the logistics have been dealt with (such as notifying other family and clergy and determining what will happen with the body), there are a new set of patients that must be treated: the medics who've just experienced death.
Even medics with decades on the job may have a strong reaction to a particular case, Fix said. They may have worked a dozen terminations, but this particular patient may remind them of a lost relative or friend. This is a time when a new medic, one who may not have lost anyone in their personal life, is at an advantage.
So, how do medics deal with the emotional trauma that may arise from terminations?
In extreme cases, a debriefing may be in order, where the medic meets with their chief or a counselor to process their feelings.
In most cases though, medics will treat each other.
"Medics and firefighters deal with these kinds of emotions in a simple way: by sitting around the kitchen table with their colleagues and talking about the case," Fix said.