Student-run EMS offers career prep at Ore. college
Students operate Willamette EMS on weekends and earn patient care hours by responding to real emergency calls from campus
---
By EMS1 Staff
SALEM, Ore. — An on-campus EMS at an Oregon college offers real-world career experience and free emergency services to students.
Willamette EMS (WEMS) is operated by Willamette University students and supervisors and takes real emergency calls routed through the school's campus safety department, according to a university news release.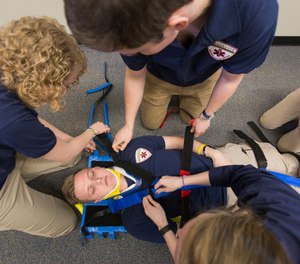 WEMS is state-licensed and runs according to the same standards as a private service, with student medics required to pass an emergency medical responder class, a state exam and a WEMS exam before joining. 
The service runs from Friday at 5 p.m. to Sunday at 5 p.m. with one supervisor and at least one medic responding to campus emergencies, although the university plans to expand the hours this semester.
WEMS Acting President Nathan Brown, an exercise science major, said the service can respond to campus faster than a city ambulance in addition to being free for Willamette students. He says students sometimes fear getting in trouble with campus safety by calling, but that the service ensures privacy for all patients.
"They will ask for names of people and try to find out what happened, but no one will get in trouble for that," Brown said. "They're here for the safety of everyone, and we're here for the safety of the patient."
Medical students can earn patient interaction hours through WEMS, as well as career preparation by handling real emergencies.
"It's one of those things you can only learn by doing," said student and WEMS member Kelli O'Brien. "WEMS is a great, low-cost experience that allows students to see how well they respond in emergency situations."