New National EMS Scope of Practice Model released
The National Highway Traffic Safety Administration released the latest version of the EMS Scope of Practice Model
---
By EMS1 Staff
The 2019 National EMS Scope of Practice Model, which identifies the knowledge and skills necessary to achieve competence for the four levels of EMS clinicians, is now available on EMS.gov.
The 2019 model was created through an expert-led, consensus-driven process managed by the National Association of State EMS Officials and supported by the National Highway Traffic Safety Administration's Office of EMS and the Health Resources & Services Administration's EMS for Children Program.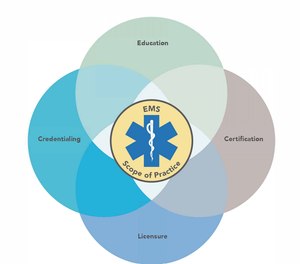 This is the first major revision since the National EMS Scope of Practice Model was first published in 2007. The latest model pinpoints the knowledge and skills required of EMS professionals. The most recent version:
Provides up-to-date, relevant and evidence-based descriptions of the levels of EMS clinicians (emergency medical responder, emergency medical technician, advanced EMT and paramedic)
Will be used to drive the upcoming revision of the National EMS Education Standards and Instructional Guidelines
Facilitates reciprocity, standardizes professional recognition and decreases the necessity of each state developing its own education and certification materials
View the full 2019 National EMS Scope of Practice Model below.
National EMS Scope of Pract... by on Scribd