New Mont. college paramedicine program aims to fill first responder shortage
Five members of Missoula College's inaugural class of paramedic students received a $17,000 scholarship from AT&T at the launch event
---
By Laura Scheer
Missoulian, Mont.
MISSOULA, Mont. — In the midst of a pandemic that's stressing the state's health care system and a shortage of first responders locally, Missoula College celebrated the launch of its new paramedicine program on Tuesday, welcoming its first class of students ready to join the next generation of frontline workers.
"In a time of a pandemic, we're reminded once again of the tremendous importance of first responders -- those paramedics, those police officers, those firefighters who go into harm's way to take care of the rest of us," said University of Montana President Seth Bodnar at a press conference at the flagship branch on Tuesday.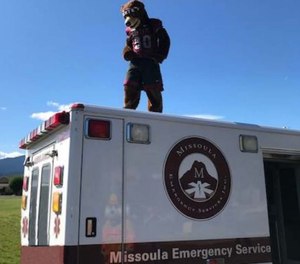 The 16-month associate's degree program is a partnership with Missoula Emergency Services and other health care entities in town like St. Patrick Hospital and the fire department, which will provide the students with hands-on training that's specific to working in Missoula and Montana. The idea is that the program can help add much-needed paramedics to the Missoula community and beyond.
"It's going to result in filling an incredibly important community and regional need ... at a time when it is as important as ever" said Reed Humphrey, who served as dean of the College of Health before stepping in as acting provost.
Bodnar said the program is a result of collaborative efforts with local stakeholders and an example of UM's effort to "partner with place."
"We're aware that there's a paramedic shortage in this community," Bodnar said. "I think it's so critical that as we meet those community needs, we do so together, we work together."
The students will learn everything from CPR to administering pharmaceuticals to life-saving strategies such as managing airways, but they'll also learn things unique to rural emergency medicine.
"In Missoula, we respond to about 11,000 911 calls for medical calls each year. That's about 30 a day," said Dave McEvoy, director of the program and a paramedic for the past 30 years. "Those calls expect great things of people, and you never know when you show up what it's going to be."
McEvoy described situations the students will likely find themselves in once on the job, saying one day you could be responding to a rollover 90 miles away at 2 a.m., working to coordinate a helicopter landing zone in the dead of winter, and the next day you're responding to a call in the Rattlesnake from a panicked mom of an infant child who's not breathing.
"She's going to take her most precious thing in the world, her baby, and she's going to hand that baby to you and she's going to expect that you are going to do the right thing," he said.
At the event, AT&T presented a check for $17,000 in scholarship money that will go to five students in the program's inaugural class.
April Cappel, a scholarship recipient and one of three women accepted into the class of 13, said she's always wanted to be in the emergency medicine field, but the local community partnerships are what attracted her to the new Missoula College program.
"You have professionals from Missoula Emergency Services, you have professionals from the ( Missoula) fire department and St. Pat's -- we're all working together so we have the best of all departments in all different sects of emergency care coming together to make us the best that we can be for the Missoula community," she said.
Her long term goal is to become a flight paramedic, but for now she is looking forward to serving the Missoula community once she graduates.
"It's nice to know that I'm making a difference, not just for one person, but for our entire community as a whole, serving a need that's there," she said.
McEvoy, speaking to the inaugural class of students at the event, said it's a privilege and an honor to be a first responder.
"Preparing people for that service to our community is our mission ... and it's something you have to earn. Our goal is to have the highest quality program possible."
___
(c)2020 Missoulian, Mont.
McClatchy-Tribune News Service