Fitch EMS Foundation announced at Pinnacle
Fitch & Associates partners orchestrated the non-profit as a surprise for Founding partner Jay Fitch, PhD, to advance EMS leadership opportunities
---
By Kerri Hatt
PHOENIX — During a surprise presentation at the 15th annual Pinnacle Leadership Forum, Christine Zalar, Founding Partner of Fitch & Associates, announced the creation of the Fitch EMS Foundation. Zalar said the Foundation is a natural extension of the Firm's nearly four decades of work in EMS leadership development and education, and a way to push that work even further in the future.
The firm's partners carefully orchestrated the Foundation reveal as a surprise for Founding Partner, Jay Fitch, PhD, who has demonstrated a deep, ongoing passion for developing leaders throughout his career.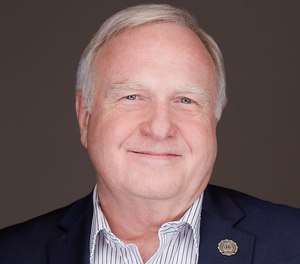 The Fitch EMS Foundation's mission is to "Fuel the mission and passion of individuals to pursue career pathways as EMS supervisors, managers and executives; to advance innovative EMS leadership opportunities; and to stimulate people to achieve the best version of themselves."
The Foundation is being established as a 501(c)(3) non-profit organization, with initial funding provided by the firm's partners, Zalar; Senior Partner, Anthony Minge, EdD; Chief Operations Officer, Guillermo Fuentes; and partners Steve Knight, PhD; and Roxanne Peek.
The non-profit organization will seek donations and grants to further its mission. It will be governed by an engaged board of directors from the EMS industry.
Fitch will serve as the Foundation's first executive director.
---

Read more
Pinnacle 2021 Quick Take: Moments like these define successful EMS leaders
Jay Fitch delivered an inspiring and thought-provoking keynote address to EMS leaders on how to future-ready their organization
---
Education has always been part of the firm's DNA. "Jay and the firm have worked all along to identify a need, and to fill it," Zalar said. "We believe the Fitch EMS Foundation can play an important, critical role in the future of our industry, tackling some of its greatest challenges and continuing to develop leaders. Who better to lead the way than Jay Fitch?"
Fitch, Zalar and the late Richard Keller formed Fitch & Associates in 1984 to leverage their collective decades of experience in emergency services. Since that time, it has expanded to include work in the fire, communication center, law enforcement, hospital transport, compliance arenas, among others.
In 2005, Fitch & Associates launched the Pinnacle EMS Leadership Forum, an annual conference for executive-level leaders, medical directors, government officials and hospital leaders from all walks of emergency medical services. Following a year off because of COVID, the Firm held its 15th Pinnacle conference in Phoenix Aug. 9-13, 2021.