8 more reasons why you should never run to treat patients
EMS1 readers came together to outline more reasons on why you shouldn't run, but walk with purpose
---
By EMS1 Staff
If you're not running, then you're not concerned, right? Wrong.
In an article about why EMS providers should never run to treat patients, an EMT outlined eight reasons on why not running to patients is not due to a lack of concern.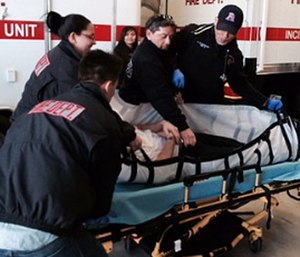 On Facebook, the article received 1,000 Likes and was shared over 1,700 times. Our EMS1 readers came together to outline more reasons on why you shouldn't run, but walk with purpose.
What do you think? Should there be any special circumstances for running on calls? Let us know in the comments below.
"No, we don't run. I walk with purpose. But if I fall with equipment on me, I get hurt and who helps me? It causes panic." – Wendy Gatens Nedwicke
"Slow is smooth, smooth is fast." – James Hebrlee
"I have seen a trainee run when a loved one was panicked. She was first in the motel room, which happened to be a scam and the 'patient' who faked a seizure was surrounded by dirty needles; now she was in the room alone. We don't run!" – Kerri Keyes
"This is only common sense. You can trip and fall and now you're waiting another five minutes for another ambulance instead of 15 seconds." – Kevin Kopas
"I learned my lesson the hard way. Although it was dark and minimal-to-no-lighting, my hurried trip to the truck resulted in me tripping over a concrete block, breaking my kneecap, tearing the ACL and meniscus. I had to send another truck to code while my boss boarded me for transport. That decision resulted in two surgeries and over a year and a half on leave." – Dianna Hall
"Assess the scene and formulate a plan. Scene safety first." – Jane Holtzhausen
"My own wife tells me that I should run when it is something bad – that I am being unconcerned with the situation. It's just the contrary. I have been in EMS for 27 years, and ran into a few of the early calls before I realized the impact that getting my adrenaline up had on the outcome of the call. Walking into a call always plays into your favor." – Billy Warren
"I had 33 years in fire and EMS. With the first 10 years on a med bus, I heard comments like 'Look at them walking up here like they are coming to get their shoes shined.' We would let it go and when we got to the ER, we would explain why we do what we do to the family members and ask them to help us by spreading the word around to their friends. But in the heat of the moment, it would start all over again. We would keep our heads down, watch our backs and do our job and get on the road ASAP." – Ronald Williamso