3 keys to teaching a cardiac refresher class
Rather than delivering a lecture that reteaches existing knowledge, use the time for case review and discussion
---
Updated April 6, 2015
A reader wrote, "I have been asked to present cardiac issues to an EMT-Basic refresher. I have not presented before and I wondered if you could steer me in the right direction?"
Thanks for the question. This is a fairly common scenario that a paramedic is asked to present to EMTs. Although a paramedics have 10 times the training and potentially more patient assessment and treatment experience than the audience, they are not necessarily skilled and competent educators just by virtue of the certification.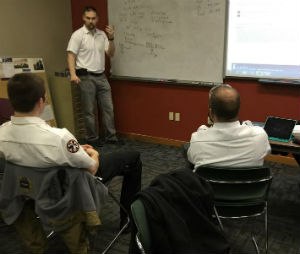 Education, like any skill, is honed through preparation, training and repetition. That being said, everyone needs to teach their first class and build from that experience.
Start with case reviews
Since this is a refresher course, make some assumptions about the audience. EMTs have knowledge of cardiac anatomy and physiology, have assessed and treated cardiac patients before, and understand their local treatment protocols. Rather than delivering a lecture that reteaches existing knowledge, use the time for case review and discussion.
Consider organizing the cases around the fact that the heart is a pump. Each case should be a short patient history, exam and assessment findings, and the impact of interventions. Share case details with the EMTs as they ask questions about the patient. Use cases that illustrate these three situations.
1. Pump not working at all:
Cardiac arrest with a shockable rhythm
Cardiac arrest with a non-shockable rhythm
In the discussion, review traits of high-quality chest compressions and delivering shocks with an AED.
2. Pump function inadequate:
Heart attack
Heart failure
In the discussion, review EMT treatment for heart attack and the physiology of interventions. How do oxygen, nitroglycerin and aspirin improve pump function? What is the effect of CPAP?
3. Pump not getting enough fluid to pump:
Severe bleeding from blunt or penetrating trauma
Dehydration from vomiting and diarrhea
In the discussion, review EMT treatments for stopping severe bleeding with well-aimed direct pressure and tourniquets. For medical causes of low volume, discuss the importance of the patient history to gather clues about the cause of the patient's problem.
Facilitate discussions
Develop cases that refresh the EMTs' knowledge and skills on important anatomy and physiology of the heart, types of cardiac emergencies, assessment of cardiac emergencies, and EMT interventions for cardiac arrest.
Ask the EMTs to share cardiac cases from their own experiences. It will be fairly easy for them to describe what they did and how they treated the patient. Challenge them to describe why they performed specific assessments or treatments.
Share your tips, ideas, and resources in the comments. How would you present on cardiac issues to an EMT refresher class?